Installing Floating Shelves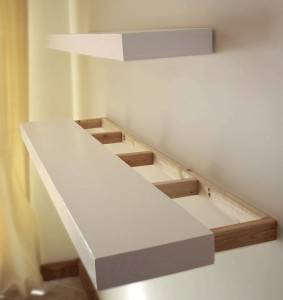 If you are not confident in your DIY skills, or simply don't have the time or inclination to do this job yourself, then you can get a local handyman in to do the job for you. Use the "Post a Job" section of this site to get in touch with local tradesman who will be happy to give you a quotation for installing shelves or another DIY jobs you may need doing.
If you plan on doing this job yourself, before installing the floating shelves you first of all need to check the construction of the wall to find out if you are fixing to masonry or fixing to plasterboard. If a plasterboard wall, the preferred option is to fix directly to the timber studs behind the boards for extra strength, so the first step is to mark out the location of the timber studs in the area where wish to fit your floating shelf.
Then remove the floating shelf bracket and place it in position on the wall while trying to line up with your timber studs markings for your strongest fixing points. Mark the wall using the pre drilled holes in the fixing brackets as a guide on one side, then use a level on the shelf while marking the other fixing points. This part of the procedure is basically the same for masonry walls as it is just the fixing used that will change. Once your floating shelf bracket is fixed in place you can then slide the shelf over the supporting bracket and screw the underside of the shelf to the fixing bracket to stop the shelf sliding off.
Once fixed securely in place, clean up any dust and give the shelf a wipe with a damp cloth to finish. You must remember not to overload your floating shelf however as the floating design looks great but is ornamental rather than functional and not designed to handle heavy loads!
Last updated by MyJobQuote on 18th September 2015.