Installing an outside Tap
Installing an outside tap on your property is a really useful project for a number of reasons, the most popular reasons include making it easier to wash your car or water the lawn. This is a project that is possible on a DIY basis if you have the right skills, experience and tools. However, if you don't want to do this job yourself, please use the "Post a Job" page on this site to find plumbers local to you and get free quotes and advice with no obligation.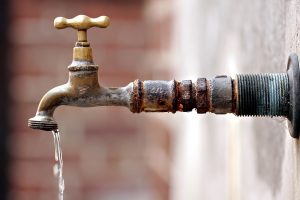 Most outside taps are installed using a kit which is available from many DIY stores which connects to the domestic cold water supply under the sink, but it's not too difficult you can make up your own cold water supply connection using the traditional copper pipe method. The copper pipe method involves using a T-fitting to branch off the cold water supply, then inserting a pipe through the wall then fitting a new tap. To begin, choose the most suitable cold tap in your home (i.e. one which has enough space to insert a T-connector and is close to the planned outside tap position). This will normally be either the kitchen or bathroom sink.
The cold water supply pipe will have to be cut to allow the insertion of the T-fitting needed to branch off the supply. This is best done using a pipe slice or pipe cutter, avoid using a hack-saw if possible and this leaves the pipe edges really rough and hard to seal. If a hacksaw is used you will need to spend some time de-burring the end of the pipe – better to use the correct tool in the first place!
Once the pipe is cut, insert the T-piece into the pipe to provide a supply to the outside tap. It is best to also fit an isolation valve which will allow you to turn off the supply to the outside tap if required. Once the isolation valve is fitted and tightened up, the water can be turned back on. From the isolation valve it is also useful to fit a drain cock that allows you to drain down the outside tap pipework to avoid freezing pipes in the winter. Then run the pipe to the wall to a 22mm drilled hole (you will need a hammer drill and a 22mm masonry bit. Insert a piece of 22mm copper pipe as a sleeve then run the water pipe through the sleeve to connect to the tap.
The outside tap will consist of a backplate and the tap mechanism itself, fit the back plate to the wall and screw the tap into the back plate. The gap between the sleeve and the actual water pipe can now be filled with silicone mastic to keep it water tight and you can add an insulated cover or jacket to prevent it freezing in winter.