How to use Scaffolding Safely
There are many DIY projects for which erecting tubular scaffolding is required, however, scaffolding is a specialist trade in itself and a very dangerous one. If a scaffold is not put up 100% correctly, the results can be disastrous, even fatal. Falls from height account for a great number of fatal accidents every year in the UK plus thousands of major injuries. Since 2005, in the UK there are regulations which have been bought in to cover working at height. Whatever your skills, even if you are tackling a major DIY project on your own, you should leave the erection of scaffolding to the experts for health and safety reasons.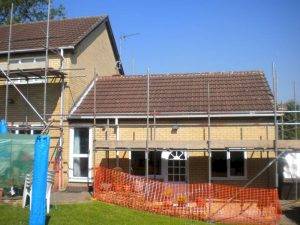 Throughout the UK there are many companies that will hire and sell scaffolding and platforms, sometimes it can actually be cheaper to buy the scaffolding for your project and then sell it on once you have finished, but for the majority of cases, scaffold should be erected by a team of competent tradesman for safety. In any case all scaffold towers are designed to comply with the requirements of BS1139 (part 3) 1994 & HD 1004. Scaffold towers are easily portable and can be placed easily directly into position for use.
Many tower platforms have lockable wheels so the scaffold can simply be pushed along allowing safe access to all areas of the project. Scaffold towers can be bought outright or hired, with hire rates of around £100 per day for a 10m tower kit. But the cost will vary depending on the make and model you choose, how high it can be raised and the sort of project it's being used for.
Another reason to get the professionals in is the fact that scaffold hire is usually only designed for large-scale building projects and you will need to apply for a permit from your local council which only lasts for four weeks. In addition if the scaffolding is on a pavement or any kind of public right-of-way, you will also need to hold Public Liability Insurance, which can be prohibitively expensive for just a few weeks work.
Specialist scaffold tradesman and companies will have experience with local authorities and will also already carry the insurance cover required. To find out more about scaffold rates in your area, use the "Post a Job" page to gather quotes from local specialists.
Last updated by MyJobQuote on 18th February 2016.