How To Treat: Rising Damp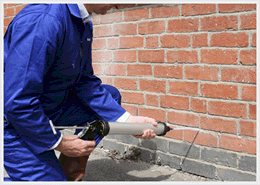 There are many different causes and signs of rising damp, as well as different ways to treat each of these with different rising damp solutions. Rising damp is moisture present in your walls as a result of water in the ground underneath rising up through the fabric of the wall, whether the walls are brick, block or stone. The water travels upwards as a result of capillary action through the tiny holes in the brick or stone.
The water then stops rising at a height where gravity counteracts the upwards capillary action. This is usually around of 1.2m, but can be higher due salt deposits and the presence of non-breathing wall coverings including vinyl wallpaper and non breathing plasters and paints.
Typical Signs of Rising Damp
The number one sign of rising damp is a tide line of yellowish or brownish staining in the lower area of your wall just above your skirting board. You may also notice damp or rotting skirting boards and flooring, or see white, fluffy deposits in your plaster (caused by damp can leave salt deposits on your walls). Eventually you will also discover black spots of mould on the damp areas of your wall.
What Causes Rising Damp?
Rising damp problems usually occur as a result of not having a Damp Proof Course installed or having a faulty Damp Proof Course due to age or poor installation. The Damp Proof Course is a waterproof layer in your wall and under your raised timber floor or near your concrete floor on your internal wall. The Damp Proof Course repels water and will stop rising damp from rising up into your walls.
If you are experiencing rising damp even if you have a Damp Proof Course, it may be breached, or there may be something attached to your walls that is allowing water to travel around the Damp Proof Course and moving upwards. It could even be that there is an area of ground next to your external wall that is higher than the Damp Proof Course. Another possibility is that the cavity wall may also have debris inside of it which can reach above the Damp Proof Course's creating a bridge for moisture to travel up your wall as rising damp.
Other Causes of Damp
Remember that your damp problem may not necessarily be rising damp, it could be another source of water. The easiest way to tell that your damp is not rising damp is if the damp patches are higher up than 1 metre on your wall and are unevenly distributed, this normally indicates you are suffering from penetrating dampness caused by damage to the fabric of the building through broken roof tiles or masonry for example.
What is Causing my Rising Damp?
The first thing to check is that you have a Damp Proof Course (unless your house is very old you should have one fitted). If you do have a Damp Proof Course, check that there are no structures bridging it such as outside steps. The rising damp could also be coming in from a neighbour's property if they don't have a Damp Proof Course or theirs is higher up than yours! The Damp Proof Course can also be bridged internally if your cavity wall becomes filled with debris, you can check for this by removing some of the bricks on your external wall and taking a look around the cavity. If there is debris there, you can remove it by hand using sturdy gloves or use an old vacuum cleaner. Once the cavity area is clear, replace your bricks.
Treating Rising Damp
To treat rising damp you need to identify the cause first of all, deal with that then carry out any necessary repairs to deal with the effects. You need to be wary of rogue tradesman promising a quick fix for rising damp, as re-pointing or painting over the damp will in the short term hide the problem, but will just make the job more expensive in the long term and it will mean you need to pay a professional to do the job all over again down the line.
To find reputable tradesman in your local area, use the search feature on MyJobQuote to get quotes from 5 local specialists and then check out their reviews online. There are plenty of retrofit Damp Proof Course options available including water repellent chemicals, pore blocking salt mixture and osmotic water repellents. Check with your tradesman which is more suitable for your problem.
Last updated by MyJobQuote on 11th October 2014.