How To: Floor Boards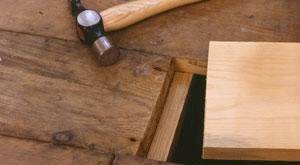 Perhaps before looking at some of the steps to follow in order to repair squeaky floors, it is important to understand what causes the squeak in the fast place. Most floors especially wooden are fastened by nails, at least 90% of them. However, a better fastening material would most definitely be screws since they can be screwed and unscrewed at any instance. It is safe to say that screws are convenient to use as compared to nails. Anyway back to the main question, what causes floors to squeak? Floors squeak as a result of loose nails which are used to hold the floorboards due to increased pressure or rust; a common feature with nails.
What tools and equipment do you need in order to fix a squeaky floor?
Screws
Safety goggles
Hammer
Nails
Power drill
Flooring saw
Brick bolster
Floorboards
Woodworking adhesive
Follow the steps below so as to repair a squeaky floor
1. Check and tighten the squeaking board
If in case the only problem facing the floorboard is loose ends then your task is simplified. You are just required to drive new screws to the fixings that exist. It is advisable to use screws as compared to nails due to the fact that screws can be easily tightened and by extension exchanged unlike nails.
However, if the floorboard is either split or cracked then you will need to pry it by use of a hammer and brick bolster. If the floorboard is grooved or tongued then you will need to saw through the groove at an angle. You can do this by use of a flooring saw.
2. Removing a damaged section
In case a section of the floorboard is damaged then it will warrant that you remove it. You can do this simply drilling a hole through the floorboard and inserting the saw blade. You should then cut across the floorboard at an angle that is adjacent to the joint.
Lift the ends that you have cut with your hammer.
You should then remove the nails using a hammer or pliers. Once you have done this, loosen the remaining nails and lift the floorboard. It is advisable that you do this work with an assistant since the floorboard can be quiet heavy. Therefore, consider requesting your neighbor for some assistance.
finally, cut out a piece of wood to the required size and then screw it carefully to the joint side.
3. More Tips
It is also possible to repair your floorboard with an adhesive. The adhesive that you are supposed to use is woodworking glue as the others won't work effectively on the wood. Join the split floorboard by use of woodworking adhesive and then cramp it together. Once you have done this, screw the floorboard down to the floor.
If in case the floorboard is proofing hard to repair, Use it to trace its shape on a new piece of wood. This wood should be of the same thickness and width as the floorboard. This will ensure that the wood fits perfectly where the floorboard fit. Once you have cut out the new floorboard, position it and then fasten it to the joints with screws.
Last updated by MyJobQuote on 29th October 2013.