How to Repair or Replace Plastic Guttering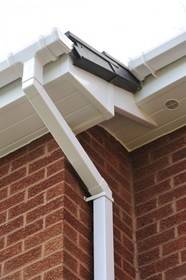 Plastic guttering is much cheaper than iron guttering and very versatile. You can even use adapters and couplings to join plastic guttering to existing cast iron gutters. Installing or replacing plastic guttering is pretty straightforward for DIY enthusiasts, the only caveat is that you need to take suitable precautions when working at height and be familiar with ladder safety.
If doing the job yourself, then you should begin by planning the outline of your guttering and having all the necessary measurements, you can then buy all of the necessary pipes and fittings in hardware stores or even online. If you don't like working at heights, or simply don't have the time or inclination to tackle the job yourself, you can use the simple online tool to gather quotes from local tradesman.
When it comes to plastic guttering, the first job is generally to remove the old guttering (except of course if you are building a new house). Plastic Guttering is relatively easy to remove, but removing iron guttering is more difficult due to the weight and possibility of sharp edges.
In fact, when removing iron guttering you will generally need help due to the weight of the guttering alone. Another problem that many face when removing guttering, is the fact that the screws holding the old guttering and brackets are often rusted into place, which means the screws or bolts will need to be sawn off using a mini hack saw.
After you have planned, measured and purchased the guttering, the next step is to establish the position of the running outlet or stop end outlets, which need to be fitted accurately above the drain positions. Also take into account that when planning guttering and bracket positions you need to have a drop of 1.5 inches every 20 feet of gutter you have.
Taking into account this fall, you can now fix the end fascia bracket to the fascia board and use a string line to establish where to fix the intermediary fascia brackets (which should be no more than 1 metre apart). Once the gutter brackets are in place it is time to fit the actual guttering. Start by fitting the first length to the running outlet then onto the fascia board brackets. Then join the next length to the first with a bracket.
Then, after measuring and cutting the guttering, you can fit the corner pieces and then fit the external stop end. Downpipes can be either round or square, either option can be used as there are downpipe adaptors available. Once guttering has been fixed, remember that to ensure gutters work effectively they need to remain free flowing so need to be regularly cleared of any debris such as twigs leaves and other debris.
Last updated by MyJobQuote on 7th March 2016.