How to Remove Vinyl Flooring and Lino
Removing vinyl flooring, vinyl tiles or lino is far from an enjoyable job, but it is fairly simple and requires just a single tool; a floor scraper. Unfortunately, there is no "easy" way to do this job, it's all about hard graft! If you don't want to do this job yourself, then you can find a tradesman local to you easily using the "Post a Job" page on this site, simply provide details of the job you need doing along with contact details, then you will have local flooring specialists contacting you with quotes and advice in no time.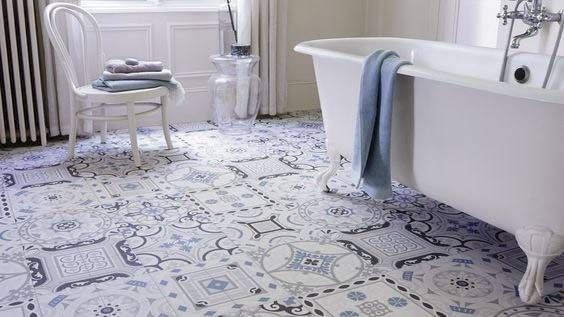 If opt to do this job yourself, then you need to know that removing vinyl flooring, vinyl tiles or lino can be time consuming and repetitive work, although the tiles or lino should come up relatively easily using a floor scraper once you get one tile or an area of lino up in order to get the scraper underneath, this job gets old really quick, especially on a larger floor area!
With lino flooring the best method is to cut a section out to allow you get underneath the sheet with the scraper, though if you plan to re-use the lino, this method is a non starter. Also you need to know that removing the vinyl or lino is not the worst part, you have to clean the adhesive underneath!
However you decide to remove the lino or vinyl, the end result will likely be a messy floor area covered in adhesive and bits of old flooring. Removing this is a long and boring process involving lots of elbow grease. Any rock hard lumps of adhesive can be removed carefully with a hammer and chisel, for the rest the best method is to warm the old adhesive gently with a hot air gun, making it easier to scrape off. But even after this long process, you may be left with a residue which will then need to be removed by scrubbing very hard with a rough cloth or scouring pad, dipped in solvent thinners.
When using solvents, ensure you wear rubber gloves and safety goggles. If you plan on replacing the flooring with ceramic or quarry tiles, you may be able to avoid this scrubbing stage by laying a good coat of undiluted PVA adhesive over the area to level it. In addition if laying laminate flooring, as long as the floor is reasonably even with no lumps, you can lay the underlay straight over the floor which will save a lot of time. We guarantee that once you have removed lino or vinyl flooring, you will probably never want to do this job again!
Last updated by MyJobQuote on 11th February 2016.