How to protect Outbuilding and Gardens
With reports of theft from sheds and outbuildings becoming more and more common, many are interested in learning how to secure their garden shed and outbuildings at home to keep tools and other valuables safe from intruders. With the right knowledge there is no need to be a victim of crime, or at least no need to make your home or garden an easy target! You simply need to arm yourself with the correct know-how and fit the correct security measures – or pay someone else to fit them for you!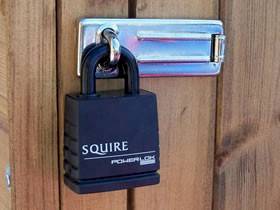 Home and garden security is a priority for many, finding the most effective way to keep your home, garden tools & furniture and even cars and bikes safe is crucial as garden theft is on the increase, with cheeky thieves even using victims own wheel barrow and tools to commit the crime! This article highlights some simple but effective security measures,  all of which can be installed and fitted on a DIY basis.
However, if you are one of those people who simply don't posses any DIY skills, or you don't have the mobility needed to do the work, please use the "Post a Job" page to have local security specialists and reliable tradesman get in touch with you to provide quotes and advice.
Fitting padlocks and lockable door furniture wherever possible is an obvious precaution, but today's criminals are getting cleverer and should this basic level of security be insufficient, external IR lights with CCTV provide another layer of security and a powerful deterrent. An external CCTV camera connected to a TV monitor and video recorder can be connected to an Infra Red light and/or using motion detectors to come on when you feel the most vulnerable.
Triggered by a movement in your garden or near your house, modern camera systems have varying sensitivity to motion which saves the camera turning itself on when not required, such as ignoring bushes moving in the wind. Most modern CCTV systems are easy to install while being a good deterrent for garden thieves and burglars, particularly if installed in conjunction with a motion detector light which will light up the whole garden as soon as movement is detected.
Some items, the ones which low life thieves seem to find most desirable, such as bikes and mowers, should be secured to something which the thieves cannot simply pick up using a steel rope with a strong padlock. if you have a number of such items, locking them together can prove a good option as carrying out three or four cumbersome objects will take too long so most burglars will lose interest.
For smaller items in your garden or shed, such as tools, you can place these in a lockable box and also secure them to heavier objects. Caravans, bike and motorbike trailers are popular with the modern day criminal so specialist locks such as trailer locks are required in addition to keep these items safe.
Last updated by MyJobQuote on 26th September 2015.