How to: Point and Repoint Brickwork and Walls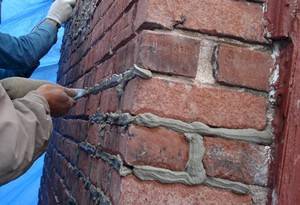 Pointing and repointing brickwork is a very time consuming job, it is one of those jobs that looks easy, but it actually takes a bit of experience to emulate the sort of finish that professionals achieve on most jobs. Many people avoid repointing work due to the time investment required, but putting this job off can eventually lead to even more expensive and time consuming work as the mortar protects the brickwork from water ingress.
There are various steps involved in repointing brickwork, such as renewing mortar joints, preparing new mortar, mixing mortar and matching colours, along with different styles of finish that are possible including weather struck, recessed and flush pointing. If you don't want to do this job yourself, you can use this site to help you find a local bricklayer to do the work for you, just complete the simple form to receive 3 quotes from professionals near you.
When it comes to old brickwork with broken and missing mortar in joints, the first stage is to remove all loose and damaged mortar, then inspect the brickwork to check that none of the bricks have been damaged as a result of water getting into the joints. Removing broken and missing mortar is best done with a plugging chisel but if it's really  loose you can easily rake it out with a screwdriver and a wire brush. Old mortar should be removed to a depth of at least 10mm as a minimum.
Nowadays there is no need to mix sand and cement to create a perfect mortar mix, there is now a range of easy mix products in 5kg and 10kg re-sealable plastic tubs which can be mixed in their own tub easily. However, you still need to take care when matching colours to the existing wall colour. Once you have a close colour match, fill all the joints flush with surface then finish of the pointing using a metal pointing tool. However, there are a number of other types of pointing styles such as flush pointing which can be achieved with a trowel, weather struck pointing by using pointing trowel and recessed pointing using a mortar rake.
Last updated by MyJobQuote on 29th June 2014.