How to: Lay Bricks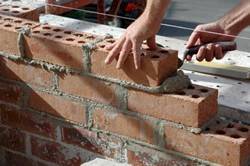 Learning how to correctly lay bricks and blocks is a useful DIY skill to have. Knowing the different types of brickwork and blockwork bonds, how to lay a safe foundation,  when to use wall ties and how to decide on a single or double (cavity) wall are things that ares second nature to bricklayers and builders, but the rest of us will need to learn for any wall building projects.
Of course if you don't want to lay bricks yourself, you can use the "Post a Job" section on this site to quickly and easily find a realiable and professional tradesman local to you for your project. But if you plan on tackling the project yourself, please read on!
Before you begin any wall building project, the first thing you have to do is ensure the foundation is sufficient, if not, then you need to lay a suitable foundation before you lay a single brick. There many different types of foundation, so if you are unsure, please contact a builder or bricklayer for assistance. If you are planning on building a cavity wall, the leaves must be a minimum of 90mm thick with a minimum 50mm cavity in accordance with Building Regulations Approved Document A.
The two skins of a cavity wall need to be held together by wall ties, the spacing of the wall ties is dependant on the width of cavity, thw wider the cavity, the more wall ties are required. As the cavity is there to prevent moisture from traveling from the outside skin to the inside skin of the wall, plus to insulate the internal wall against heat loss, it is important to keep the cavity free from debris, as this can create a bridge between the skins which will transfer moisture and cold temperatures across the cavity.
Most types of brick used for wall construction today are made from clay as architects and planners often insist on using building techniques and materials which are sympathetic to existing local styles. For this reason, reclaimed bricks from older buildings are also very popular.
Brickwork bonding, the way in which individual bricks or blocks ar laid, can be done in a number of ways. The best method depends entirely on the strength required, but all involve the bricks overlapping the brick layer below it by half or a quarter of the width of a full brick or block.
Last updated by MyJobQuote on 3rd July 2014.