How to Lay a Gravel Driveway
Whether you want to lay and gravel a driveway, path or patio base, the process is essentially the same. If you don't want to do this job yourself, you can find a local landscape gardener or tradesman by using the "Post a Job" page on the MyJobQuote site. If planning to lay a driveway yourself, then read on for basic tips and advice.
Step 1
The first step with any gravel driveway, is to check how firm the ground is. As a rule of thumb you will have a depth of around 200mm of material forming the driveway, so as a test dig down 200mm and drive a 50 x 50mm peg into the ground, if it is really hard to do after around 150mm, then the ground is likely firm enough for your driveway and you can then go ahead and excavate the area by hand, or by hiring a digger from your local tool hire store. Hiring a small digger is quite expensive, but can avoid days of back breaking work! In addition, you will probably need to hire a skip also unless you have plans to use the excavated soil in another landscaping project.
When excavating your driveway, you may find some areas which seem unusually soft, dig these out and infill to create a base which is solid throughout the entire area. The extra time and effort spent at this stage can save a great deal of time later on when dips start to appear in your driveway over time!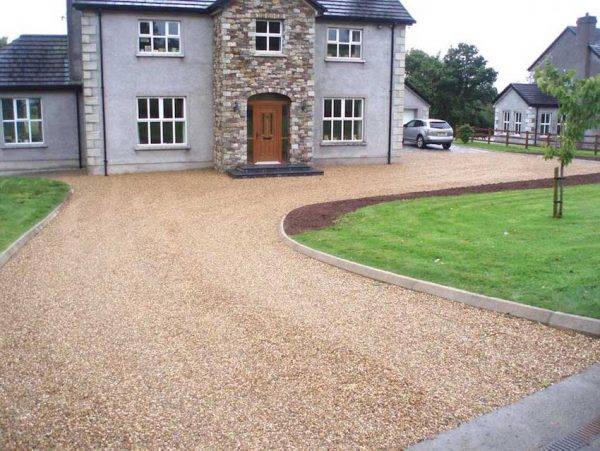 Step 2
Once you have excavated a sound and consistent base level, lay weed fabric before filling the sub base with your choice of stone gravel. Almost any gravel will do, it all depends on your budget and appearance desired. However, beneath the top layer of gravel, a layer of scalping or builders rubble is required for strength.
At the edges of the driveway, you have a choice of digging the side of the drive down vertically to keep the soil or lawn in place, or using edging stones. If you simply dig down, remember that the gravel when laid on top is likely to spread when walked and driven on, therefore it is recommended to edge the drive in some way.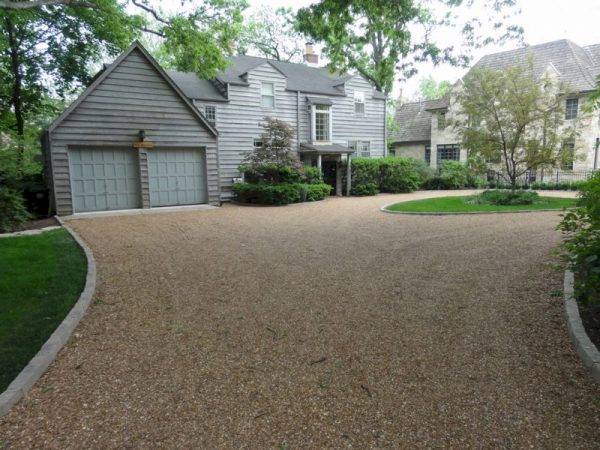 Step 3
When the scalpings are delivered, ask the driver to tip slowly at the far end of the drive then drive forward as they tip out to make the task of levelling easier. However, bear in mind that if the ground is not suitable for the vehicle, you will end up having all the scalpings tipped at the nearest end to the main road. Level using a shovel and large rake to avoid any humps or dips and to make sure you have the correct level. 150mm of scalpings will compact to about 125mm.
To finish with 150mm you will need to lay around 165 to 175mm. Once scalpings are laid you can add your choice of shingle, gravel or patio slabs on top.
If laying your driveway sounds a daunting and time consuming process, then at MyJobQuote we have a catalogue of tradespeople close to you to lay your driveway for you! Click here to post your job!
Last updated by MyJobQuote on 22nd August 2016.