How to lay a floor in your Loft for Storage
The best way to lay a floor in your loft to use safely for storage is to lay floor board panels using the tongue and groove technique and supporting them on strong joists for a stable floor. This project is within the scope of the average DIY enthusiast, however, if you lack the tools, fitness or confidence to try it yourself, then please use the "Post a Job" section of this site to find local tradesman and loft conversion specialists to do this job for you.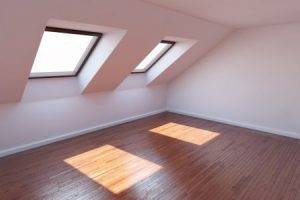 Flooring your loft or attic provides a useful extra space to store items, but be aware that the rafters in your loft or attic area is not designed to carry heavy loads and if you plan to convert your loft into living accommodation or use it as an office or study, then in addition to strengthening the floor, you will need Building Regulation approval and possibly need planning permission from your local Council to convert your loft into anything other than extra storage space.
Installing a floor in your loft is made much easier by the use of special loft panel flooring designed to be easy to get through the loft hatch. This loft flooring usually comes in packs of 3 which is enough to floor an area of around 1 square metre. Take care when installing flooring to leave space around the eaves so air can circulate to avoid condensation.
The loft flooring panels are tongue and groove which easily slot one into another for strength. They should be laid at 90 degrees to the joists with the ends always meeting in the middle of the joist (it is rare for this to happen without cutting boards to size). Screw the panels securely to the joists or rafters and try and stagger joints for greater strength. Each screw should be countersunk so when you slide suitcases or boxes along the floor they do not tear on the screw heads.
It is also a good idea to use drilled pilot holes before screwing to avoid the boards splitting. Loft floor board panels can be bought from most DIY stores and are not expensive. However, make sure you have enough insulation in your loft before screwing the floorboards down. You can save a lot of time by adding any extra insulation required while installing flooring.
Last updated by MyJobQuote on 18th October 2015.