How to Hang a Garden Gate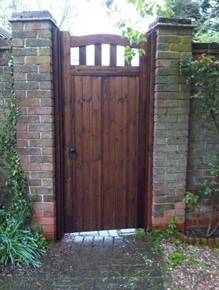 There are many types of gate you can choose for your garden, everything from large, estate type gates to small decorative wrought iron types. Whichever type of gate you choose, there are a number of points to consider when you come to hang the gate; including the size, weight, material and location: each of which will have an impact on the best way to hang your gate. The most popular type of gate include large 5 bar wooden gates or field gates, single 5 bar gates, tall side gates, and small garden gates.
Estate Gates
Estate gates (aka large 5 bar wooden gates) are normally double gates made of solid wood or steel. These type of gates are very heavy and require specialist fittings. Used often on driveways in the country or to create an opening in a field, but smaller versions can be used as garden gates. These gates are quite easy to hang, despite the size, but often require heavy duty special hinges.
Side Gates
Side gates are usually tall, solid gates on the side entrance to a garden. Designed for both security and privacy, these types of gate can resemble doors, though there also decorative wrought-iron styles available. Smaller garden gates are available in a huge variety of styles, too many to mention but usually 3ft or 4ft high, and up to 4ft wide.
Replacing an existing gate
When it comes to replacing an existing gate, you first need to check the condition of the existing gate posts, ensuring that they are secure and suitable for your new gate. Obviously larger estate and driveway gates, will require very sturdy posts to take the weight of the gate. Wider gates exert considerable pressure on the posts. if choosing between metal or wooden gates, wooden gates are easier to fix to a wooden post, but metal gates will often need metal posts to go with them, often supplied as a kit with the gate, but many suppliers sell them separately in various sizes.
When fixing a gate onto a wall, most often with a side gate, you still need a post to allow space for the gate to hinge open. Gate posts are normally concreted into the ground, but they can also be fixed to a wall or bolted to an existing concrete base or post.
3 main ways to hang a gate
There are three main ways to hang a wooden gate, either centred on the posts and opening both inwards and out, flush with the posts with the hinge and latch on the back of the gate, or behind the posts if you need to hang a gate on the back of the posts. The type hinges and latches you buy will obviously depend on the type of hanging. If you are hanging the gate yourself, the first thing to check is that the gate is the right way around!
This may sound like a stupid mistake, but it is surprising how many get this wrong first time! Check that supporting timber is on the inside of the gate and the diagonal support, if any, is on the hinge side of the gate. if replacing a gate and re-using old posts, obviously you need to find a gate the same size as the old one. Luckily gates are sold in standard sizes so this should be easy enough, however some gates are specially made which can cause difficulties.
The hinges should be fitted to the gate first, then hold the gate in place between the posts making sure there is enough ground clearance by wedging with a couple of pieces of wood underneath. Make sure the gate is level then screw the hinges to the post and check the gate to ensure that it opens smoothly. Finally you can fix your chosen latch and any decorative ironmongery in place.
Get a professional
If you would prefer a professional to hang the gate for you, then you can find  reliable and trustworthy tradesmen by using he "Post a Job" form on this website to gather quotes from joiners or landscape gardeners in your local area.
Last updated by MyJobQuote on 28th August 2015.