How To Get Rid Of Bed Bugs
Bedbugs (more properly known as Cimex lectularius) are small blood-sucking insects that can infest cracks and crevices in and even around your bed. The bugs are attracted by body heat and the carbon dioxide you exhale, often unseen, they venture out at night to feed on your blood, in much the same way as mosquitoes do.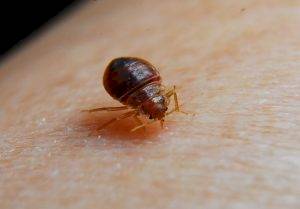 Many people have bed bugs but do not have a noticeable skin reaction, but others will develop itchy red bumps on their face and body, which can often be mistaken for mosquito bites. In recent years there has been a huge increase in the number of bedbug infestations, most likely due to an increasing resistance to insecticides. However, apart from some people developing itchy red bite marks, bedbugs are not dangerous and do not transmit any human diseases.
Bedbugs can be seen by the naked eye, they are oval-shaped and reddish-brown like lentils and up to 5mm long. Female bed bugs lay between 200 and 500 eggs over a two-month period. These eggs are tiny white specks which are very difficult to spot. When they hatch they form tiny straw-coloured insects and after about six to eight weeks they shed their skins, which leave mottled brown shells on your mattress. Bedbugs are very resilient and can survive for up to a year without feeding. Contrary to popular belief, bedbugs are not attracted to dirt, so if you have a bedbug infestation that does not mean you have an unclean home.
Signs that you may have bed bugs include unexplained skin rashes or itchy bumps, black spots on your mattress, mottled shells and blood spots on your sheets. They look a bit like lentils and are visible to the naked eye, but can squeeze into the smallest crevice or crack which makes them very difficult to spot.
They are not confined just to mattresses either and can often be found under the mattress, along the headboard and away from the bed in other furniture and the edges of carpets. Once bedbugs are introduced into your home, they spread easily from room to room and within a building through holes in walls or pipes. They can even be transported in luggage, clothing, furniture and bedding.
Getting rid of the bugs can be extremely difficult, so although there are products you can buy for DIY treatments, it is recommended that you contact your local council or a pest control company. Check that if you contact a pest control company that they are members of the British Pest Control Association or National Pest Technicians Association. But check with the council first, as many offer pest control services for free, whether a council tenant or not. But some councils only offer services free of charge for council tenants.
If you have to pay, the treatment usually costs between £20 and £170, depending on how bad the infestation is and how many rooms in your home are affected. Most pest controllers will usually need two treatments to get rid of bedbugs infestation. pest control companies will begin by carrying out an inspection, then they will use specially designed equipment to get rid of the bugs. After your home has been treated, wash all clothes and bedlinen at 60 degrees or over or put them in a tumble dryer on a hot setting for 30 minutes.
Last updated by MyJobQuote on 23rd February 2015.