How to Fix a Toilet Flush
If your toilet flush stops working correctly, it is most likely one of two problems, either the handle has become disconnected from the flushing mechanism, or the toilet diaphragm is split and needs to be repaired or replaced to get the toilet flushing again properly.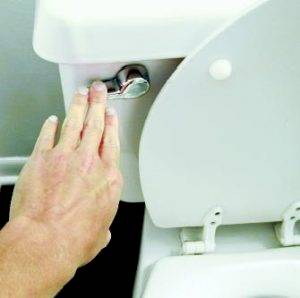 If your handle is not connected to the flushing mechanism in the cistern, the toilet will not flush no matter how hard you pull the handle! Toilets work by having a cistern that allows water in through a valve, either a ball valve or the modern Torbeck valve.
Both operate in much the same way, but the Torbeck valve is quieter. The water inlet valve is opened and closed by a lever or float arm which is raised and lowered by the water level in the cistern. Once the water is in the cistern, the flushing mechanism lets it out on demand.
The most common type of flushing mechanism is the toilet siphon using a handle attached by a wire. So, when the lever is depressed the flush diaphragm is pulled upwards allowing the water to run into the toilet bowl. If the flush diaphragm is split, the pressure of the water simply pushes through the split and the more you flush, the bigger the split gets.
The only real option in this case is to change the diaphragm. You can get a plumber to do this job by using the "Post a Job" form on the site to get no obligation quotes from a number of local plumbers to ensure you get a fair price for the job.
If you plan on doing it yourself, begin by turning off the water to the cistern, then flushing the toilet until cistern is completely empty, then soak up any remaining water with a sponge or paper towels. Once the cistern is completely empty, undo the connection between the handle and the diaphragm. Then undo the back nut under the cistern and remove the flush unit. Then simply unclip the connection and pull out the frame which holds the diaphragm in place. Then the diaphragm can be replaced easily then the flushing unit can be reassembled.
Last updated by MyJobQuote on 10th September 2015.