How to Fix: a Leaking Shower or Bath
Leaking baths and shower trays are a common problem, over time they can move if not fixed securely and small leaks caused will eventually cause significant damage to floors and ceilings if undetected. Although movement in the fitting itself is the most common reason for leaks, there are of course other potential causes such as broken bath tiles and cracked shower trays.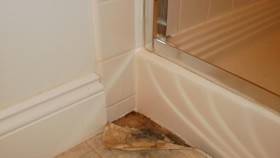 But with any leak, the first thing to check is that the fitting itself is secure and that there are no obvious cracks or damage to the unit. There should be little to no movement in use. If the shower tray noticeably flexes under weight, then it is advisable to upgrade to a resin shower tray, rather than a more flimsy plastic one.
If the bath or shower tray is secure, the next step is to check the sealing around the fittings. Sealing rarely works for long if you simply keep replacing new sealant over the old. So, every couple of years strip off the old sealant and apply the new sealant using mastic gun.
It is also worth checking the grout to your tiles if everything else seems sealed and secure. Even a pinhole in the grout will suck water in behind the tiles and over time will pool onto the floor below the bath creating problems. This kind of leak is often not even visible until the damage is done! If you find any suspect grout, rake out old grout and reapply a new filling, ensuring the joints are completely sealed.
If you suspect a leak, or you just want to keep on top of bathroom maintenance. Please use the simple online form at the "Post a Job" page to find reliable and trustworthy local tradesmen to supply quotations for any projects free of charge and without obligation.
Last updated by MyJobQuote on 2nd October 2015.