How To Fit: Aluminium Guttering
Most guttering fitted nowadays is plastic, due to the fact plastic is relatively cheap and effective. However, plastic is far from an ideal material for guttering and does have some problems. plastic guttering is not as robust as metal guttering and the joints can creep open over time and leak, plus the colour can fade in the sunlight. Seamless aluminium has no such problems and can be pressed in the back of a van using a pressing machine that can churn out as much guttering as needed depending on the length of the roll.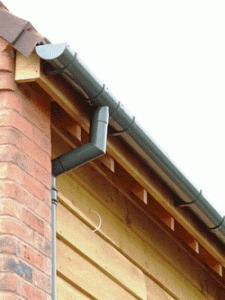 Rolls of aluminium come in various colours which look particularly attractive on new buildings, or it can be made in the shape of much of the cast iron gutters used in times gone by to match older properties. Aluminium gutters are normally 5 inches wide as opposed to the 4 inches of the plastic gutters, which means they can deal with and carry much more water from the roof.
Fitting Aluminium Guttering
After pressing you can clip the brackets into the gutter shape and measure the gutter on the roof for the position of the down pipe. The gutter is then nailed or screwed to the fascia board and a plastic insert is sealed in position to direct water into the down pipe and the end of the gutter needs to be sealed with a stop end. Its a simple,  operation which takes no more time than fitting plastic gutters, but is about 40% more expensive. However will last a lifetime if installed properly.
DIY Aluminium Guttering
Aluminium Guttering is not a DIY job, you really need the machine on site to press the guttering as required for the best results. However you can order the guttering online complete with stop ends and downpipes, but it is critical your measurements are correct! If you don't fancy doing this project yourself, you can find reliable and trustworthy tradesmen using the free tools at MyJobQuote to get 5 quotes from professionals in your area. Fitting Aluminium Guttering is not a messy job and should be completed in one day or less for an average property. Once done, the job should last forever, protecting the fabric of your home from water and looking smart too!
Last updated by MyJobQuote on 21st August 2014.