How To Build: A Wall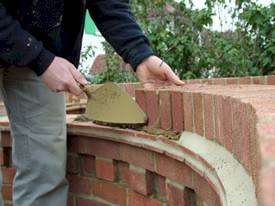 Building a garden wall is not a difficult job if you have some basic DIY experience and you take your time while following simple basic instructions, paying particular attention to the foundation, which must be an absolute minimum thickness of 6 inches (much more if the wall is load bearing). If you are building a garden wall to retain  soil behind it, then your foundations are even more important,especially if your wall is built on a slope. The foundation for a garden wall should be at least 250mm wider than the wall, which should be built in the centre of the foundation. The foundation trench also needs to be uniform throughout the length.
Once you have dug the foundation trench and filled with concrete, place a bed of mortar on top and push the bricks into this bed until they are level and all the joints between are filled. use a spirit level on the back of the bricks to ensure the first brick course is running in a straight line. Lay the next course in the same way, continually checking with the level making sure the wall is completely flat and vertical.
Each brick or block should overlap the brick below it by half to keep the wall strong. Many garden walls are built from old red bricks which can be reclaimed from demolition projects. But the next popular construction is split block walling used to represent stonework.
Building a garden wall needs a bit of careful planning and attention to detail, but whichever material you decide to use the basics remain the same. The main factors are that the wall must be built on a solid foundation, the concrete and mortar mixes must be correct. All brick or block joints need to be staggered and all joints must be filled in to stop water penetration which will quickly lead to frost damage which can ruin a wall very quickly with freezing and thawing cycles.
A single brick wall is well within the limits of a competent DIY enthusiasts, but retaining walls or double brick walls that are load bearing are more difficult and should not be attempted without previous building experience. If you have a wall project and don't feel you have the skills or experience to complete the job yourself, or if you simply prefer to leave such jobs to the professionals, please use the "Post a job for" on the site to get in touch with 3 local bricklayers to get the best prices from reputable and professional tradesman.
Last updated by MyJobQuote on 21st May 2014.