Conservatory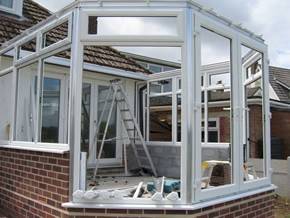 Building a conservatory is an advanced DIY project, but if you decide to build a conservatory yourself, the most critical point is to ensure your measurements are absolutely accurate. Conservatory parts normally come with a 10-year guarantee but if the problem is down to your measurements being wrong and subsequent alterations you have attempted, the guarantee will be invalid, which will be an extremely expensive mistake!
There are a number of conservatory styles and designs available, the most popular types include Edwardian, Victorian, Lean-to and Gable style. DIY Conservatories are modular, which means they is made up of standard size parts which fit together to form a pre-defined shape.
Choosing a DIY Conservatory is very much down to individual taste and the intended usage. However, whichever style and manufacturer you decide on, the conservatory should meet minimum specifications which include 28mm thick toughened low E heat reflective glazing to conserve heat, 25-35mm thick polycarbonate roofing for good thermal insulation, opening fanlights with shootbolt locking for ventilation in the summer months, 70mm internally beaded reinforced internally glazed frames, plus a fitting kit with complete instructions and all the required fixings.
In many cases planning permission will be required which will involve a planning application to be submitted and approved before you can start building your DIY Conservatory. Unless you have previous experience with planning applications, this can be complicated and require a professional, but the main points to consider are that no more than 50% of the original land around your house can be covered with extensions including a conservatory, the conservatory should not project more than 3 metres (4 metres for a detached house), plus of course if your home is a listed building or in a conservation area there are many more points to consider. Even if planning to build the conservatory yourself, it may be a good idea to seek expert help if planning permission is required.
Once you have decided on the style of conservatory and planning issues have been addressed, the first step is to construct the conservatory base, normally a level base of concrete upon which you can build your conservatory. Once the base is layed you can either build a dwarf wall if required, or if you have purchased a full height conservatory kit you can lay your conservatory frames straight on to the base.
Some modern modular conservatory kits are designed for pre-fabricated or steel bases, where the base and wall sections are constructed from galvanised steel and made using brick effect tiles bonded to the steel frames.
DIY Conservatory installation is obviously the most cost effective method and conservatory kits come with full instructions on how to do it yourself. But you do need the necessary skills and experience in order to do it yourself to a good standard. If you would rather get a builder in to do the job professionally, then please visit the "post a job" section on the site where you can provide brief details of the project and have local conservatory installers who will get in touch with you to provide free no obligation quotes.
Last updated by MyJobQuote on 27th August 2014.