How To: Bleed or Drain Your Radiator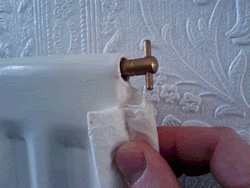 If the room is cooler than normal despite radiators being on, check to see if your radiators are cold at the top and warm at the bottom, if so, you need to bleed them to get rid of trapped air and eliminate the cold spots. Bleeding radiators is something that should be done periodically, perhaps every year or every two years, to keep your central heating in tip-top condition and your home nice and cosy!
If radiators need bleeding more often than once a year, then this means air is getting into the central heating system and you should have this investigated by a professional. Bleeding radiators is an easy and cheap DIY job, with the only tool required being a radiator key, which costs around £2 from a DIY store. In terms of time allow around five minutes per radiator.
Open The Radiator Valves
First of all fully open any thermostatic radiator valves, including valves on heated towel rails if applicable, and run your central heating for 10 minutes until all radiators are hot. Then turn off the central heating system and check to see if your radiators are cooler in one area of the house, if this is the case, then the radiators aren't properly balanced and it is likely that the nearest radiators to the boiler are taking more than their fair share of the hot water from the system. You will need a plumber to investigate this properly, balancing central heating systems is beyond the skills of most DIY enthusiasts..
Release The Air
The next step is to put the radiator key into the valve in one of the top corners of the first radiator and slowly turn anti-clockwise to release air. Have a cloth handy as water will likely drip from the valve too. If air is trapped in the radiator, it will escape through the valve and there will be a hissing or spluttering sound as the air comes out. As soon as water begins to drip out with no air, close the valve and wipe any spills. Some modern systems have an automatic air release valve fitted, these radiators can usually be identified as they have a small red top on the valve which enables the air to escape.
Check The Rest Of Your Radiators
Work your way around your central heating system checking each radiator in turn. Only open the valves just enough to release air, you will usually find that air pockets will only occur in one or two of the radiators. When finished turn the heating on and check there are no dripping valves, than after 10 minutes make sure there are no longer any cold spots in the radiators.
Other Causes of Cold Spots in Radiators
Cold spots at the bottom of radiator rather than the top, are likely a sign of rust and sludge build-up. These radiators will need to be flushed by a heating engineer or in some cases be replaced. If your radiators have cold spots at the bottom, or if some radiators are getting much hotter than others, you will need to call a plumber or heating engineer to investigate the problem. Avoid cowboy tradesman by finding a professional in your area and checking out the reviews on MyJobQuote.
Last updated by MyJobQuote on 10th November 2014.