Home Security Guide
Intruders gaining access to your home is a scary prospect, even more terrifying if you're at home but upstairs asleep at the time. But it happens in all areas of the UK to many households every single day! This article below will highlight the various options available which can be implemented on a DIY basis to improve home security, including burglar alarm systems and outdoor security lighting.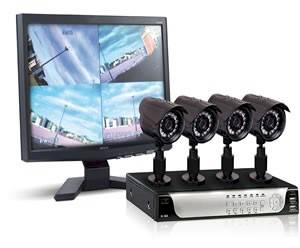 But before you even think about these measures, there are a number of things you can do to greatly reduce your chances of being a victim of a burglary that cost nothing or next to nothing. For example keep bushes, plants and trees well trimmed around entrances to your home to avoid giving intruders concealment and therefore time to break in to your home, don't leave windows open (especially on the ground floor) and if you are out for the evening (or planning to be away for a few days) use timers on lamps to make it less obvious there is nobody home.
If you are investing in a home security system, there are a number of different types of burglar alarm systems on the market, but each will have a method of detecting an intruder, then various methods of raising the alarm. More expensive alarms systems will send a signal to a manned security centre in addition to an audible alarm and flashing/strobing lights. But these types of alarms will usually require a regular subscription payment in addition to the purchasing and installation costs. Home alarm systems normally use two main types of detector, passive infra-red detectors located inside the home, and/or magnetic contacts on doors and windows which activate if the contacts are separated.
If you're a reasonably experienced DIY enthusiast, there are many a self-install alarm system options available, both conventionally wired and wireless varieties. Wireless systems are easier and quicker to install, but both offer the same levels of protection and come with a PIN that activates and deactivates the alarm system. Monitored alarm systems will alert a manned 24/7 security centre which will in turn alerts one or more of your nominated key holders, usually by mobile phone.
There are also a number of additional options available, such as panic buttons for the elderly and vulnerable. CCTV systems are perhaps the most popular option, gone are the days when these systems were only seen on commercial premises, the technology is now cheap enough for home installations and very effective. In your own property, it is perfectly legal to install CCTV provided planning permission is not required and the cameras are trained on your own property and not overlooking your neighbour's.
It is worth noting that there are many dummy burglar alarm boxes available for sale at considerable savings over a proper home alarm system, however professional thieves can easily tell the difference, plus dummy alarms won't reduce your contents insurance either whereas a professional alarm fitted alarm system often will.
Last updated by MyJobQuote on 30th October 2015.