Free Fire Safety Check Guide
The United Kingdom and Ireland are among the countries which offer free fire safety inspections to their residents. What a free fire inspection entails varies based on the requirements your local authority has. Different counties might offer different inspections depending where you live. We would recommend looking in to what your local fire service offers. It is imperative that you get your smoke detector inspected, to help keep your family and property safe.
How Do You Get Your Home Inspected?
You can easily fill out an online form and have a firefighter visit your home. In order to have your home inspected, you simply visit:
– Your national fire-inspection page. This is either a local fire-department website or .gov website, which will lead you to the online application.
– Fill out the online form. This will ask: the age of your smoke detectors, whether you've ever had the property inspected, if there are fire hazards in the home and other relevant questions based on your personal needs.
– You will be required to set up a time and date for the inspection. The fire service might be busy around certain periods so there is going to be limited availability. So, based on how many other applicants are in front of you, the date and time for the screening can take several weeks before an inspector can visit your home.
The application process is simple. You don't have to answer difficult questions, nor do you have to be an expert in fire-safety. You simply have to have important dates age of your fire detector, alarms and information about the home. From there the fire department in your local region or authority will set up a date for the screening.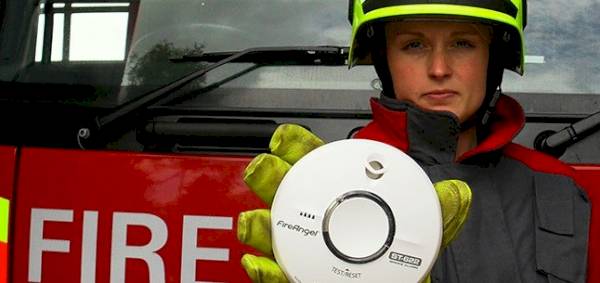 Can Anyone Apply?
Yes, a free screening is available to all home and property owners. As long as you live in a region and authority which offers free screening to its residents, you can apply.
Other Resources
Many counties also offer local events which can teach you about fire safety. In fact, in the UK sometimes fire stations will offer local events where you can bring your fire detector, smoke alarms and fire extinguisher to fire stations or local events and firefighters will inspect, and update these items free of charge, if they are outdated.
There are also free tips and resources online. This will inform you of issues such as:
– Removing plants/obstructions from the area in front of your detectors, to prevent blockage in the event of smoke danger.
– Checking batteries and levels in your fire extinguisher to make sure they are updated and ready in the event of an emergency.
– Tips to teach you how to use fire safety equipment.
Fire safety in your home is not only imperative to keep you and your family safe but also neighbours and communities especially in larger buildings or office spaces. Therefore, fire stations and local country governments in general offer these free events and provide free resources to residents to ensure they are up to date on fire safety and maintaining their fire safety equipment in the home.
What Does Your Free Screening Entail?
This is going to differ in each county; it will also differ based on your local municipality or city and the ordinances which are in place. Typically, the free screening will include:
– Firefighters checking your equipment. Making sure batteries are full, extinguishers are working properly and checking carbon monoxide equipment to ensure it is functioning properly.
– Repairs performed on your equipment. If there is damage, if parts need to be replaced or if upgrades are necessary this is typically offered free of charge.
– Replacement of old systems. If your fire extinguisher is 20 years old they will replace it either free or at a small cost. If your carbon monoxide monitor isn't on and hasn't worked since you lived in your home they will make appropriate changes or replace the items.
– Firefighters will also provide homeowners and property owners with literature about maintaining their equipment and how to prevent fire threats and hazards.
Basically, any information that will keep your home safe, prevent fire and smoke damage and keep your neighbours safe as well are the type of topics and information which is included in your free fire screening.
Safety Checks
When firefighters and fire safety inspectors visit your home or property, they will also perform a full safety check. This entails checking the smoke detectors, fire alarms, batteries, and the fire extinguishers. They will possibly check fire extinguishers and sprinkler systems outside and inside your home.
If they can do repairs, this will be included. In the event it is major repair work to a sprinkler system that the homeowner has to take care of, you will receive notification and should make repairs as included in your fire safety check report.
In Addition To This, They Will Check:
– Paint in the home for lead or possible flame-igniters. They might suggest flame-resistant paints or sealers if necessary.
– The walls, flooring, and interior/exterior of the home. This is to ensure it is stable and properly equipped in the event of a possible fire threat.
– Carbone monoxide and smoke detectors. If there are obstructions which can possibly block wind-flow which would cause damage, they will suggest moving items to clear the pathway.
During an inspection, fire safety professionals might also provide you with advice about placement of your fire extinguisher. Not only so you know where it is, but also so you can get to it quickly in the event of a fire or smoke threat. They will check your kitchen for possible 'flame igniters,' near the oven, stove, and other areas where smoke can quickly spread at high levels. If modifications have to be made, if you need to install sprinklers, or if you have to add a smoke-chute to your kitchen, all of this will be included in your report.
If you have a basement or attic, they will check it. Not only for proper air flow but also for potential areas to leave the home, in the event of smoke or major fire threats which occur and you are at home when they ignite.
A fire safety check is extremely thorough. It is going to check every area of your home, interior and exterior to ensure optimal safety for yourself and your family. Additionally, it will include a report and literature. If your home is up to date and doesn't require work, you can schedule your next fire inspection a year later. In the event work is required, new systems need to be added if you need to install sprinklers or if other major work is required this will be included in your report. The inspector will also include dates which inform you how quickly you have to do the upgrades to avoid fines or penalties if your home is not in compliance and safe in the event of fire or smoke threats.
Frequency Of Fire Inspections
Each country has different requirements as to how often you need to have your home screened or checked by an inspector. In some cases, it may be annually and in other countries only every 5-10 years. Especially today, with so many upgrades and new systems that are Eco-friendly, 'smart systems' they can easily prevent threats which old detectors and monitors could not threat. So, if your home is updated with these systems a fire inspection or safety check won't be required nearly as soon as with older homes.
Make sure you check government resources and sites and ask the inspector which visits your home how often you should have your home inspected. It is a great way to ensure your property and your family aren't in harm's way and it is the perfect way to prevent a fire or threat of before it occurs in your home. Not only will they provide you a guide and resources but will also provide you the knowledge you need to ensure your home is safe your belongings are safe and most important and that you and your family are safe in the event of a fire or major smoke damage or threats to your property.
Schedule Your Visit Today
In the UK, you have the opportunity to have a licensed, trained professional, visit your home and inspect it for free! So, why not take advantage of this. In addition to providing you information about the home's safety they will inform you of areas of concern/possible danger which you should attend to immediately. If nothing more, you have a free inspection which will let you know your home is safe and up to code. So, visit your government site or local county site to have a professional firefighter or inspector come to your home and inspect it for possible dangers or fire hazards and threats.
Last updated by MyJobQuote on 23rd February 2018.