Fencing: Concreting Fence Posts
The following article explains how to create fence posts in concrete to support your choice of fencing. This article of course is aimed at the DIY enthusiastic, but if you don't want to do this job yourself, you can use the MyJobQuote website to help you find a reputable tradesman local to you, by getting up to 3 quotes and having the ability to read reviews from previous customers. In terms of difficulty, concreting fence posts is certainly a possible DIY project if you are physically fit, confident you can do the job safely, and assuming you have the free time to make a decent job of it!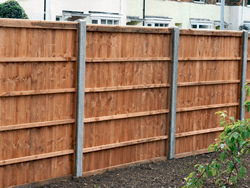 Preparing to Concrete Fence Posts
You should choose a fence post that will allow 25% of its length to be in the ground and still be the desired height. For example a 6 ft high fence would need an 8 ft post with 2 ft in the ground, 6 feet above. A post size of 4 x 4 inches for fences of 6 ft high and over is recommended, but for shorter fences 3 x 3 inch posts will be sufficient.
All posts should be pressure treated to avoid rot and wood boring insects, otherwise you will find yourself replacing fence posts much sooner that you would like! The hole for the fence post should be 3 times as wide as the post. So, for a 4×4 inch post, at hole at least 12 inches wide is required. The concrete mix should be a general mix placed into the hole and settled using a stick or broom handle to eliminate air gaps.
You need to leave 150mm from the top of concrete to top of hole for back filling with soil or turf if required. Make the top of the concrete sloping away from the posts to allow water to drain away from the timber. Posts should be vertically leveled using a spirit level before the concrete sets.
Fence Posts using Postcrete
Postcrete is a premixed concrete which is simply tipped in a hole full of water! The mix comes in handy sized 20kg bags and though more expensive for a long run of fencing, postcrete is ideal for a single fence post or metal posts for washing lines. Once you have dug your hole to the correct depth and size, place the post in the hole using a plumb line as a guide, use timber batons or a helper to ensure the post remains upright, then fill the hole with water to one third of its depth and pour in the Postcrete evenly around the post until no water is visible.
Then sprinkle a little water on top of the mix while ensuring the post stays upright using a spirit level. The Postcrete mix will take around  5 to 10 minutes to set hard enough to remove any supports. Thereafter, periodically check the posts using your spirit level to ensure that it remains upright. Once the Postcrete mix has set hard cover the top with soil or grass if required.
Last updated by MyJobQuote on 15th April 2014.