Drain Down a Central Heating System
There are a number of reasons why you would need to drain down your central heating system for maintenance and repairs, including changing a radiator, or replacing a boiler, cleaning and flushing central heating pipes. But on a DIY basis, this should only be attempted on open vented heating systems, if you have a sealed system you need a qualified plumber or heating engineer which you can find easily and quickly using the "Post a Job" page on this site.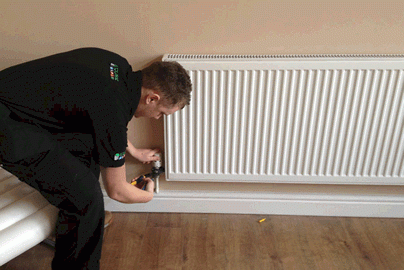 If draining down the system yourself, the first step is to turn off the gas or electricity supply to the boiler, then make sure the system does not fill up with water as you are draining it! This can easily be done by preventing the ball cock falling in the expansion tank using a plank or similar to fool the system that it is already full of water. When the ballcock is raised to maximum height, no more water can enter the system.
next, connect a hosepipe to the drain nozzle and open using an adjustable spanner to allow all the water run out of the system. Run the water outside to a drain – note opening any bleed valves will help to drain the system faster. Once water stops flowing, you need to check system is completely empty and not just clocked with air, fill the tank in the loft with a few inches and water and check this starts running out of the hose almost immediately, if it does not, then you have an air lock which needs to be dealt with.
Once you have completed your maintenance task and it is time to refill the heating system, make sure the drain nozzle is closed and close any radiator bleed valves you opened. Then remove the plank from the ballcock in expansion tank and let the system fill up (if you replaced any part of the heating system check for leaks around that item). This is an ideal time to add any corrosion or lime scale inhibitors.
Once system is full start bleeding radiators to remove air from the system, starting with the downstairs radiators. Then repeat with the top radiators upstairs. Double check any work you have carried out to ensure you have re tightened all nuts and reconnected any pipes, then turn on your power supply and relight the boiler. Once the water heats up you probably need to bleed the radiators again one more time.
Last updated by MyJobQuote on 10th November 2014.