Different Types of Screws and Size Guide
How often have you needed to do a DIY job at home and you can't have a suitable screw. There is such a huge array of screw types and sizes, finding exactly what you need is always difficult, so a trip to the local DIY store is on the cards. below you will find a brief guide to the types and sizes of screws available.
Wood screws are described by two measurements, length and diameter. The length is the length that should be buried in the wood, not the actual physical length of the screw (which will vary depending on if countersunk or roundhead etc). The diameter (shank) is given a gauge number, the higher the number the thicker the screw. To convert gauge number to diameter in inches, multiply the gauge umber by 0.013 and add 0.060 (multiply the answer by 25.4 to get the diameter in mm).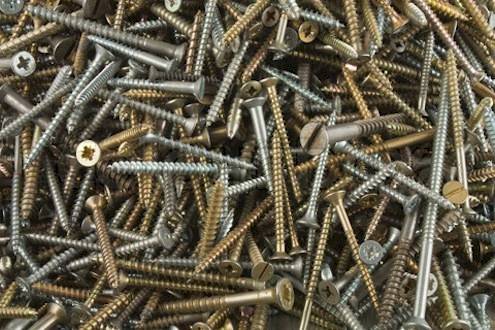 There are also three main head shapes; Countersunk (to screw right down until flush with the surface, leaving nothing protruding), Raised (a rounded top which tapers towards the shank) and Round. The most common type of screw heads include the traditional single slot and the cross slot. This cross slot was originally designed for the Phillips screwdriver but most cross head screws today are Supadriv or Pozidriv. There is also the Robertson Head screw which has a square, flat bottomed slot which will not "cam out" as you tighten or loosen it, and it can be positioned securely on the driver bit whether you are driving it upwards or downwards.
Always be sure to use the right screws for the job, particularly the correct length, using screws just a fraction too long can mean the screw coming right through to the other side causing damage, whereas using screws that are too short can mean the screws may not have enough grip to do their job. To make the screws easier to remove at a later date, use a little grease or Vaseline on the thread before inserting new screws to make them easier to remove if you have to (great for those occasions when you are building flatpack furniture and realise you have something upside down or back to front!). Do not use soap on the threads as although this makes it easier to get screws out in the short term, the soap will attract moisture which can cause rusting. Always drill start holes with a bradawl or a very small drill bit before attempting to insert the screw to avoid splitting the wood.
Last updated by MyJobQuote on 16th July 2015.