Detecting, Diagnosing and Treating Dry and Wet Rot
Dry rot can cause all sorts of expensive problems in your home, the longer it is left untreated or undiagnosed, the more expensive it will be to treat and it can even eventually cause structural and safety problems. Identification of the type of rot is an important part of the process, you need to identify and diagnose the different forms so you can treat them effectively. Because  dry or wet rot can seriously damage your property if it is present, it is well worth getting professional advice if you suspect a rot problem, this is not something you can solve yourself with a quick visit to B&Q!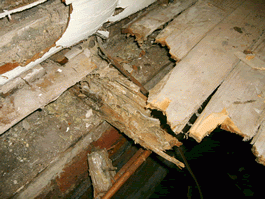 Identifying Rot Strands
Identifying Rot Strands is far from easy unless you are an expert! The strands that you can see when dry rot starts growing look like roots. They can be white, off white or even silver grey. Wet Rot strands (Coniophora Puteana) are also known as the cellar fungus. These wet rot strands are dark in colour and form fern-shaped patterns. Though Fibroporia vaillantii, also known a cellar fungus, often has bright white strands with white fruiting bodies and spores. Wet Rot strands Asterostroma has very fine brilliant white strands with the fruiting body being star-like when viewed using magnification. Dry Rot Mycelium presents as a dirty off-white sheet, which forms a kind of skin on the surface of the affected timber area. Whereas Wet Rot Mycelium is a bright brilliant white skin or coating. If you discover any kind of film, spores, mushroom like structures or fruiting bodies in or on timber in your home, it's time to call in the specialists.
Boron Rot Treatments
There area  wide range of Boron Powders and Solutions which are designed to combat a variety of problems caused by rot and insects. The most popular and least unpleasant of which is the Boron Ultra 12 Timber Treatment. This comes in a a powder or ready to use as a water-based biostat which has no ill-effect on non wood–boring insects or on mammals. It is easily applied by brush or spray, and quickly soaks into masonry and timber with no vapour or smell. For more specialist applications Boron treatments come in Gel, Rod and Paste forms.
Dry Rot Paint
Dry Rot Paint is also available to prevent Dry Rot spreading by painting onto unaffected areas around the affected area to prevent the spread of rot. The Dry Rot paint forms an effective barrier to mould or fungal growth which stops the rot from spreading. This special paint can be applied behind skirting boards, on window frames and in timber joist sockets.
Hiring a Specialist for Rot Diagnosis and Treatment
Although you can purchase various dry and wet rot treatments and apply yourself to save money, it can be difficult to establish the type of rot problem and therefore the best treatment. if in any doubt, contact a professional for advice and recommended treatments. you can use the MyJobQuote site to easily get free quotes from 5 contractors in your area to compare costs and get professional rot treatment at a competitive price just by filling in one simple short form.
Last updated by MyJobQuote on 14th March 2016.