What are Combination Boilers?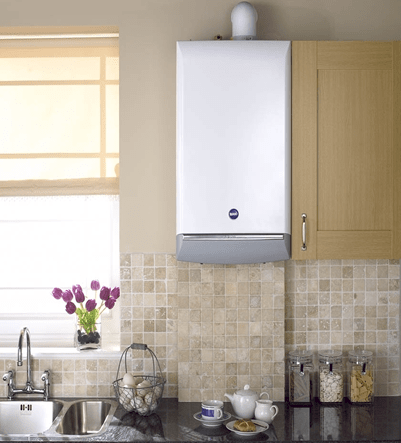 Combination boilers are the most popular type of boiler for both replacements and new builds in the UK. Because they combine the functions of a central heating boiler and an instantaneous water heater, they are cheap to run, producing hot water on demand, plus all their operating components are normally contained within one unobtrusive casing and can fit almost anywhere in the home. Furthermore, installation is easier thanks to incorporating an expansion vessel, thereby eliminating the need for a cistern in the loft space.
Combination boilers, much like conventional gas fired boilers, have a burner and a heat exchanger, which form part of the home central heating system. Hot water from the heat exchanger is diverted to the central heating circuit as required, but with priority given to hot water. Combination boilers feature a pressure gauge on the appliance to indicate the operating pressure. This pressure is critical to ensure that an adequate flow of water is maintained.
The flue requirements for combination boilers are flexible, with options including open, room sealed, fan assisted and room sealed, fan assisted open, condensing or se-duct flue types. In terms of maintenance, combination boilers are fuss free too, the primary heating circuit should be cleansed and treated with a corrosion protector in the same way as any other central heating systems, and in hard water areas they should be treated with a scale reducer or water softener to prevent the build up of limescale. Plus of course, as with all gas heaters, they will require an annual gas safety check by a competent person.
In direct combination boilers, the secondary water is either heated using the primary pipes in the heat exchanger for the central heating, or by passing through a separate heat exchanger which is usually bolted on top of the main heat exchanger.
If you are considering having a combination or "combi" system installed, you need to contact a competent and experienced heating engineer to carry out the work. To have local heating engineers get in touch with quotes and advice on your central heating requirements, please visit the "Post a Job" page.
Last updated by MyJobQuote on 21st October 2014.