Choosing: A Shower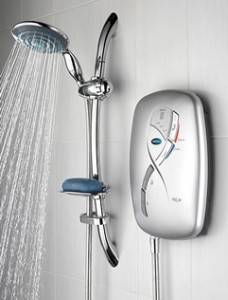 There are a number of factors to consider when choosing a shower including whether you need a power shower, electric shower or just a mixer shower. Once you have decided on the type, you then need to consider the shower valves, pumps, cubicles and drainage. However, before choosing the shower type, note that the way the hot water is currently heated in your house is important.
Some shower types cannot be used with some heating systems. Basic electric showers can be used within any domestic water system, normally connecting to the mains cold water, they use an electric element within the shower unit to heat the water as it passes through. As long as you have a clearance of 10 metres from your shower spray to the underside of the cold water tank.
Generally you can fit an electric shower as long as you have an independent cold supply from the tank. in addition, the water pressure at the mains must be a minimum of 1 bar, with a flow of at least 8 litres per minute.
However you should carefully check with the manufactures instructions before buying an electric shower unit as the requirements vary. Electric showers need to be connected to the mains supply via a 15mm water pipe and have an isolation valve.
when it comes to the electrical connections on an electric shower, there are many regulations to consider. Electric showers need their own circuit and the existing fuseboard needs to be capable of providing the necessary current and rated above 60 amps. A residual current device must also be installed and connection to the fuseboard should be via a miniature circuit breaker. With all types of electric and power showers it is vital that the shower supply pipes are independently cross bonded to earth. If in any doubt hire an electrician.
Mixer showers use a mixing valve to supply water to the shower head. They can be sued with both low or high pressure and are available as surface or flush mounted fixtures. To operate correctly, mixer showers require that the hot and the cold water operate at the same pressure. If one supply must come from high pressure and one from low pressure, a pressure balanced mixer valve will be required.
Note that if your water flows from your taps at a poor rate, the shower will also be fed at a slow rate, as mixer showers do not boost the pressure. The main drawback to most mixer showers is that if taps or toilet cistern is used, this will affect the shower temperature! To avoid being scolded or frozen when this happens, you will need a plumber to install thermostatic valve that can sense changes in temperature and adjust accordingly. Power showers are simply mixer showers with integral pumps to boost the flow from the shower head. Dedicated hot and cold supplies are necessary and the water supply must always be above the level of the shower unit to ensure that the pump is always primed.
Last updated by MyJobQuote on 6th July 2014.