Choosing a Greenhouse
Building a greenhouse is a popular improvement project for both gardens and allotments, but with so many types available from so many manufacturers, choosing which greenhouse to buy can be difficult. When choosing a greenhouse, the first think to think about is what exactly you are planning to use your greenhouse for, this single factor should have the most bearing on your choice.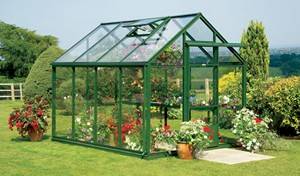 Most people use greenhouses to extend the growing season, allowing them to plant seeds earlier and giving plants the heat and protection of a greenhouse to grow, typically, tomatoes, sweet peppers and cucumbers are the favourite greenhouse plants. Greenhouses are also popular with flower growers, allowing tender varieties to flourish. Another important decision to make is where to situate your greenhouse.
Greenhouses obviously need sun so you don't want to place them in the shade! But in exposed gardens avoid placing your greenhouse in winds as the cold will affect your plants and being exposed to the wind also makes the greenhouse susceptible to damage.
The next decision to make when choosing a greenhouse, is the size. If you are a vegetable grower and need space for plenty of grow-bags, you obviously need plenty of space, in addition it can be really useful to have an area for potting seedlings. But there will no doubt have to be a compromise, as the size of your greenhouse is of course limited by the size of your garden. The higher the roof of the greenhouse, the more effective the greenhouse will be, plus if you are planning on working in the greenhouse, you need to make sure you have enough space to stand up and move around.
Greenhouses start from as small as 4ft x 6ft, and there are even mini growhouses available for those with very small garden or patio areas. Mini growhouses are plastic covered tubular frames which are ideal if your garden is too small for a full greenhouse, they start from about 70cm wide and 50cm deep, with removable shelves for trays of seedlings or plants. However, these mini growhouses are pretty flimsy and need fixing to a wall or fence to avoid them self destructing in high winds!
A lean-to greenhouse is the next step up from a mini-growhouse. these are often built or placed next to the house or garage and are a good compromise in terms of space. They are available in a massive variety of sizes and styles, from small 2ft x 4ft versions up to large wooden frames across the width of an entire building.
When most people think of greenhouses however, they are thinking of free-standing greenhouses, which typically have a single or double sliding door on a gable end, depending on the size. They can be wood, plastic or metal construction, with aluminium being one of the most popular, as they requires much less maintenance than steel frames, while being stronger than wooden framed greenhouses. Timber framed greenhouses require painting or staining every few years which many find too much hassle, but they are available in a wider variety of shapes and styles. In terms of glazing options, you can choose from safety glass, polycarbonate or acrylic glazing.
Tempered safety glass is harder to break but safer than standard horticultural glass. Polycarbonate is a more expensive option and virtually shatterproof with good insulation properties, while acrylic glazing is best avoided as it's flimsy and does not last well when exposed to the British weather!
You can buy new greenhouses in complete sets with frame, glazing and even the base included. They generally come with full instructions and are not too difficult to build, however, if you would prefer a professional to construct the greenhouse for you, please use the "Post a Job" page on this site to have local gardeners and tradesman get in touch with you to provide no obligation quotations completely free.
Last updated by MyJobQuote on 22nd August 2014.