Changing Locks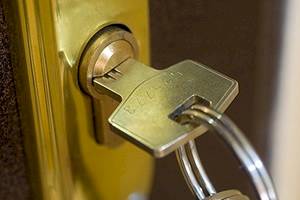 If you have lost your keys or if your circumstances have changed and you want to prevent a previous lodger, partner or tenant gaining entry, then changing the locks is a relatively easy DIY job, which often does not require changing the entire lock assembly. If you have a Yale lock also known as a night latch, then just the internal working latch, barrel or cylinder needs to be replaced.
Changing the barrel of a Yale lock allows you to use a new key, which is the usual purpose of changing locks. Yale locks protect millions of homes and businesses as the world's most popular lock, they have been specifically designed so that anyone can change their own locks relatively easily within ten minutes so that you can ensure that are the only person with keys to your home or business.
A Yale lock or night latch consists of a lock box located above and below the door latch which is held on by screws. Once the lock box is removed you can access the locks back plate which holds the lock assembly to the door. The lock shank can then be seen sticking out of the back plate and you will see the screws holding the barrel or cylinder.
Unscrew the screws to allow you pull the barrel or cylinder out. Once the barrel is removed simply insert the new barrel or cylinder, cutting the new shank to the same length as the old is required. Most shanks have grooves partially cut which allow the shank to split in the correct place once partially sawn through using a hacksaw. Then re-assemble the lock by pushing the new cylinder or barrel through the door and securing it, then put the lock box over the shank over and back plate before screwing the lock box back.
Changing the cylinder or barrel of a Yale lock is a relatively simple operation but it needs to be done correctly. If you are not confident in your DIY skills or do not have the necessary tools, then you can use the simple online form on this site to get quotes from 3 local locksmiths in your area.
Last updated by MyJobQuote on 22nd July 2014.