A Guide To Burglary Prevention
Protecting your family and belongings is of high importance to homeowners. Not only do you want to know your spouse and children are safe when you are at home, but also that your belongings are safe when you are away from the home. At work, on vacation, during a business trip you have to take, these are a few of the primary times which burglars attempt to break into your home. Some are even so daring to attempt a break in when you are present. So, what can you do to prevent your home from being burglarized? Consider a few of these precautions to secure your family and your belongings, whether you are at home or away.
Intrusion monitoring –
There's no way around it, an HD CCTV system is a must. With systems today the quality of images are of the highest quality and burglars wouldn't dream of coming near your home if they were aware these systems were installed. It is a good idea to have signs on your home that state you have security and intrusion monitoring in place, as this does deter intruders.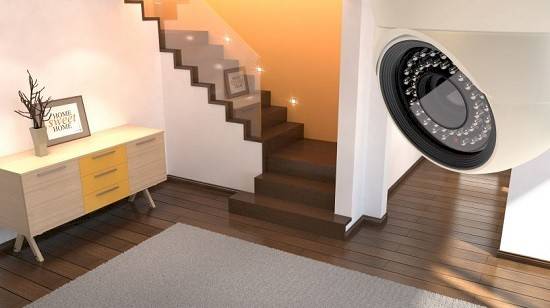 Security monitoring systems today allow you to:
– Monitor your home from your smartphone. You can arm/disarm the monitoring system with the touch of a button.
– Add additional security features or remove some (for example, make sure the alarm doesn't trigger when the children are coming home from school, set timers, etc.).
– Add additional lighting, sensor lighting, and timing for alarms to go off in the event of a threat.
Many monitoring and intrusion companies also allow you to inform them when you are away. So, if you have to take a business trip for work, or are planning a vacation, they will have this in their system, to provide additional monitoring, and intrusion sensors, to prevent your home from being burglarized when you are away.
Add motion sensor lighting –
This is a great feature to incorporate with your intrusion monitoring. Sensors will detect motion;  these sensors are so 'smart' today, that it can detect motion differences between your dog, kids, and potential burglars. So, you can feel exceptionally safe and know these systems, are going to protect your home to the highest standards possible.
Motion sensors are also nice for when you are home. If you come home very late from work, or if you need a little light when you come downstairs for a snack at night, they will trigger, without waking up and alarming the entire family. You can utilise these lights in various ways, you can set different monitoring functions and features, and you have full control of how they are going to work in conjunction with your intrusion monitoring alarm systems.
Upgrade to 'smart features' –
In addition to the monitoring CCTV system you install, consider upgrading to other 'smart features.' There are doors which will ring or otherwise notify you when there are nearby threats. There are locksets which allow you to use access codes or biometric fingerprint scanning, as opposed to a traditional key, to create more security.
Use these, and the continually updated products available for home and security monitoring. Doing this will not only make your home 'smarter', it will also make your home safer. You will always know someone is watching over your home. Further, these systems will notify you if there is a threat if they are notifying local police, or if it is simply a package being delivered at your front door when you are away from the house.
Utilise neighbours –
It is a good idea to become friends with your neighbours. They can be your greatest ally when you are away from the home. If you are planning a two-week vacation, ask them to stop by your house a few nights, turn on the lights and mobilise things in the home. All of these 'little details,' go a long way in deterring potential burglars from trying to break in. Burglars typically try to go after homes that are empty and they will watch your movements and habits for weeks (even months) before they plan on an intrusion. If they believe there is someone in the home, they are less likely to attempt to break in.
Make sure you notify your security monitoring company that you are going to be out of town as well. Doing this allows them to trigger the lights on each day, mobilise the intrusion system and put additional 'alerts in your home.' So, if there is unusual activity they can call the police or otherwise notify you to ensure your property is safe for the duration of your trip. You can take your holiday with peace of mind in knowing your home is secure and being monitored around the clock even when you can't watch it for yourself.
Inform the local authorities –
If possible, it might be wise to inform the local police authorities. Whether you are going on a business trip for a few nights or taking a holiday with the family for 2-weeks, this is a great way to alert those who will be monitoring your home, to pay extra attention when you aren't there.
Local authorities will keep an eye out on your property. If there are threats or potential activity which isn't 'normal,' this will inform them that it might be time to visit your property. And, in doing this, it can possibly deter a major break in, damage, and theft of your most valuable belongings in the home, when you are away enjoying your holiday.
Put up signs –
You know those homes which have signs that say there is a dangerous dog on the property? Most people will stay away from those homes if they don't know the owners, or if they aren't familiar with the dogs. The same can be said of intrusion monitoring and high-quality security alarm systems that you choose to install on your property.
If burglars know you have motion detecting lights that can catch even the slightest movement, they are likely to stay away. Or, if they are aware of the fact that you have the best HD cameras, which can easily capture their movements and clearly see their face, they are going to stay away from your home. Further, if there are different ways which their fingerprints can be captured or other ways they can be caught present in the home, they are more likely to stay away from your home, when they are planning to break into a local property where you live.
By simply putting up a sign in the front garden that you have home intrusion monitoring in place, you can easily deter potential threats before they ever come near your home. And, with the best systems available today, you don't have to worry about burglars disconnecting, or otherwise 'blocking' images when they are breaking into the property. Intrusion monitoring companies have ways to capture these burglars. So, when installing your monitoring system, make sure you consider putting up some sign or notification around the home, that these systems are installed. You'd be surprised to learn how many burglars will avoid your property altogether, simply because they are aware that these systems are installed in the home.
Watch the news –
This can be a great guide to letting you know of potential threats where you live. This might alert you to take extra precautions, set up additional barriers or even invest in a new intrusion and monitoring alarm system, if you don't already have one in your home. Make sure you familiarise yourself with your surroundings and if you notice anything that 'isn't normal' around your property inform local authorities.
You can't be too safe when it comes to protecting your family and to protecting the valuable possessions in the home which you work so hard for. For this reason you want to do all you possibly can to deter the threat of a burglary in your home.
Last updated by MyJobQuote on 19th April 2018.