The Benefits Of UPVC Windows And Doors
UPVC window frames are virtually maintenance-free requiring no painting or sealing which makes it an easy material to live with over their lifespan. They can also be cleaned really easily with water and just household detergent. In addition, UPVC is durable and lasts decades even in adverse weather conditions. Modern UPVC materials are much more resistant to ultraviolet radiation and won't fade for many decades. UPVC also does not rot so has a major advantage over timber framed windows plus rust is not an issue and unlike aluminium there are no long-term corrosion problems.
Most UPVC double glazing on sale in the UK today can cut down external noise by up to 70% when compared to standard single glazed windows. They may not have the best green credentials but UPVC frames can be recycled up to 10 times so they are reasonably environmentally friendly.
UPVC is by far the most popular choice in the UK for new window frames and the material has been in popular use now for over 30 years so is well proven. Their main advantage over other double glazing frame materials is cost, UPVC is much cheaper than you either aluminium or timber framed windows even when the UPVC frames also feature galvanised steel cores for additional strength.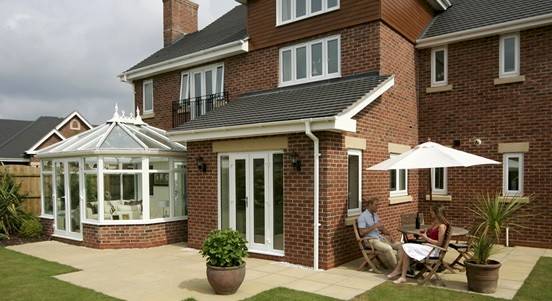 UPVC windows and doors are also durable and robust, when it comes security they are extremely difficult to break through, especially with modern multi-locking systems. In fact, UPVC comes a close second to aluminium frames in terms of resistance to burglars.
UPVC window and door frames are available in a wide range of types to suit every property and budget. In UPVC windows you can have everything from the traditional casement window to the versatile tilt and turn or even sash windows. You can even get UPVC frames in a wood grain effect veneer to match the traditional charm of your home.
UPVC is also a great material to use for window and door frames in homes near the coast as UPVC is very resistant to air base corrosion caused by salt. Therefore it is an ideal choice for beachfront properties and will also keep the homes warm and cosy in typical windy coastal conditions.
The window profiles for UPVC frames score very well in terms of thermal insulation when compared to aluminium or wooden windows. They have better insulation values and are therefore better able to reduce heating costs. Because of their relatively low purchase price, they also offer a very good cost to benefit ratio in terms of their energy saving potential and the minimum maintenance required over the expected lifespan. Even UPVC double glazing is not exactly cheap, but by installing double glazing, you can expect to save as much as '110 per year on your heating bills, so as long as you get a decent deal on the double glazing and don't pay over the odds, it should pay back the installation cost and more over the expected lifespan of the product.
Last updated by MyJobQuote on 29th March 2018.