Asbestos Removal Cost Guide
Although it was only used in new constructions through approximately 1999, there are still many standing buildings and homes which have asbestos throughout the property. It was heavily used during the 1930s and 40s, meaning older properties or protected landmark buildings which have asbestos present on them are contaminated with this highly-toxic chemical if disturbed.
Whether your home is contaminated, the business/building your company operates from is contaminated or there are traces of asbestos in neighbouring properties having it professionally removed by a licensed labourer is the best way to ensure the work is done both properly and effectively. Before hiring a local tradesperson or company for removal consider a few of these costs associated with asbestos removal services.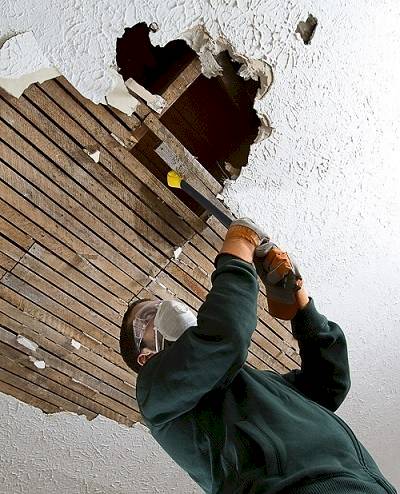 Where is it present?
Asbestos can be prominently found in roofs, flooring, wall-boards, insulation, cement, crawlspaces and other areas throughout the home. Some houses will have more asbestos thoughout the home so costs may vary. I would recommend getting a company to come to your home and get a few samples tested so they can give you a rough idea on costs of removing all the aspestos within your home. Once your house has been tested then they should be able to tell how much it should roughly cost and how long it will take. They could even provide you with a quotes on the spot depending on how severe the problem is.
Does it have to be removed and is there more than one form of asbestos?
If it is not harmful and not distubed you do not need to remove it straight away. There are more than one type of asbestos. If the property in question is infested with asbestos and it is exposed it should be removed as soon as possible to help prevent it from causing anyone harm. Doing so will also help prevent asbestos poisoning which is known to be lethal in severe cases.
Now, as to the types of asbestos, there is more than one type.
Chrysotile or white asbestos is the most commonly found form. Homes, buildings, garages and superficial surfaces might have traces of the contamination. You can spot it by the grey/white hue in colour and the flexible structure as well as the harsh odour. If you think there might be traces in some plaster or artex which has cracked I would recommend that you get it checked over.
Amosite is known as brown asbestos, which is often used in older buildings to help bind insulation. Crocidolite is the third form and is known as blue asbestos in layman's terms. This is extremely rare and only found on South Africa and is extremely dangerous if it comes into contact with people.
Is it time to tear down my home?
Not so fast. Asbestos should be removed but not in all instances. In some older homes no matter what other materials were used in construction there will be small traces of asbestos typically white. In these cases, the contamination levels are so low it won't be detrimental to your health or the property's structure if its not exposed. In such instances, you shouldn't run out and pay thousands of pounds to a local specialist to remove it. There are different ways of dealing with the problem, for example sealing the cracks over.
When asbestos of this nature is in 'good' health and isn't a risk for being damaged or contaminated there is no reason to quickly jump and do removal work. If however, it is disturbed, broken and hazardous dust has been released then this is the time to go out and call a specialist. Even if it turns out to be a simple fix you don't want to leave these traces out in the open as they are highly contaminated, dangerous and can cause different illnesses including different forms of cancer.
When prominent in more risky areas or when damaged you don't want to run the risk of leaving the asbestos exposed. Contact a specialist immediately to have it remediated, removed and have the area cleaned of any possible contamination or dangers to your family.
Is this a simple 'DIY fix?' –
No, by no means should you attempt to remove asbestos yourself. In addition to being highly toxic and dangerous if not properly removed and handled it can lead to further spread, damage and end up costing far more in the long-run. Legislation (which can be found http://www.legislation.gov.uk/uksi/2012/632/contents/made), warns of the dangers, proper removal methods, how to remedy asbestos damage and how to have it properly removed.
Due to the highly toxic nature it can affect others in a building or a home which is in a crowded area. Government legislation is in place to inform home and business owners of the proper remedies and removal procedures. Legislation also indicates exceptions and exemptions in certain properties where removal isn't necessary.
How much will it cost?
There is more than one remedy to remove asbestos so costs can fluctuate. On the low end, you can expect to pay a minimum of £50-100 for the materials associated with removal and labour costs running from £200 and up daily, for a licensed specialist.
On average, for a 1-2-bedroom home, asbestos removal can run up to £1000. For a home of 3-4 bedrooms, prices can exceed £2500 depending on the method chosen and levels of contamination found.
One such method to remove asbestos is to encapsulate it cap it. With this method, prices can run anywhere from £8-10 per sq. meter of the area being treated. This simply requires placement of an adhesive material over exposed asbestos to prevent spread and contamination.
When the damage isn't extensive or not covering larger areas this is an affordable option for smaller homes.
What's the second option? Removal if the asbestos has covered a majority of the property or is highly contagious. The cost of removal can run from £50-75 per sq meter. This method completely removes the damage and exposed areas. It removes all forms of contamination rather than simply plugging/covering it up. It is more effective, safer and in instances with high level of toxicity might be the only solution.
For some projects re-boarding might also be necessary. This is in cases of asbestos removal. If boarding and siding have been removed from the home or property you might choose to re-board the property which can run £500 or higher for larger properties.
Are there government incentives/rebates for removal services?
In certain instances you might qualify for government assistance to pay for removal or plastering/covering of asbestos on your property. Depending on the county you live in, Essex, York, Bedford, and Richmond Upon Thames there are different incentive programs which offer financial assistance to help cover costs of asbestos removal.
For example, in Essex county you may qualify for up to 40 kg free cement. In Bedford up to 12-sheets can be covered when removing, and service discounts apply. Local government ordinances and councils might offer additional discounts. For low-income families or those on government subsidies there are other variables which might possibly result in greater discounts being offered.
It is important to inquire with your local council to learn about discounts, incentives and forms of financing you might qualify for when having asbestos plastering or having asbestos removed from your property.
Where removal takes place –
For a small garage, asbestos removal and re-boarding (1-2 car garage) can run anywhere between £350 to 1500. This includes side boarding, removal and other clean up services. For insulation, costs can easily exceed £1500 for penetration and contamination found on the property.
Can I hire anyone? –
When it comes to asbestos removal there are some things to look for in a local contractor. Full licensing and certification should be presented prior to any work taking place. Additionally, look for tradespeople who are listed on government sites, council websites or forums so you can compare the quality of their work and removal services they offer. Having an extensive survey of your property conducted is also highly beneficial. You might want to forego this step to save some money but in the long run doing this might end up costing you more and can result in lacklustre work on behalf of the contractors. So, don't skip this step, especially in cases of severe contamination.
There are regulations in place (http://www.hse.gov.uk/asbestos/regulations.htm) for controlling asbestos and hiring tradespeople to perform removal work. It details the different hazardous waste removal licenses, P402 standards, UKAS assessments and HSE licenses required when asbestos removal is taking place.
Regardless of the type of clean-up work and removal being performed, tradesmen should be fully licensed and meet all lineated credentials to ensure they are qualified to perform the removal on your property or home.
Believe your property is contaminated?
If this is the case, the very first step you should take is to find out with your local council about discounts, steps to take and possible solutions they can provide. Additionally, you should contact several tradesmen to compare their prices, their suggestions and learn about the severity of contamination.
A property survey will provide you details about removal, clean-up, and levels of contamination. An honest tradesperson will not only provide you written details, but an honest assessment informing you if removal services aren't required. And the right tradesperson will work with you throughout to ensure the proper steps are taken to remove asbestos and ensure contamination is no longer present.
Last updated by MyJobQuote on 29th March 2018.