Artex Removal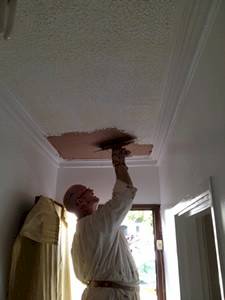 To remove artex from ceilings or walls quickly, safely and with the least mess; please read the article below for expert tips and techniques. First of all, it is important to note that older artex can contain asbestos and therefore is extremely unwise to attempt to remove without first seeking the advice of an asbestos specialist.
If in doubt, contact a local specialist for advice using the online form here. Once you have confirmed the artex is safe, there are a number of DIY removal methods you can use.
Artex can be removed with a steamer, as it is after all a water–based covering, using a wallpaper steamer you can soak then srtip the artex in the same way as you would wallpaper, although the process is much more difficult, time consuming and messy! You also need to take care not to leave the steamer in one area too long, as you could  damage the wall or ceiling underneath, or even liquefy the artex then it will run everywhere!
Great care needs to be taken when using a steamer to avoid damage to the surface, testing frequently with a scraper to check how soft the artex is then scraping it off once it is soft enough to do so easily. There are also specialist solutions that are specifically designed to remove artex, such as X–Tex from Eco Solutions, and Biostrip (which can also be used for wallpaper removal).
These products can be painted over the artex, then you can scrape off when softened. An added bonus with these products is that they do not create dust, so can be suitable for removing artex which contains asbestos.
Rather than removing artex, another option is to plaster over it. Plastering can be done as a DIY project, but there is definitely a "knack" to it so best left to professional plasterers if you are not confident in your abilities. If tackling the job yourself, first ensure that there are no flaking or loose sections of artex, then remove any obviously raised spots using a hand or wall scraper, then sanding down to get it as flat as possible for the best final finish.
Then paint the wall or ceiling with a coat of PVA adhesive (the surface may need two coats for a good seal on the ceiling). before the plastering begins place dust sheets everywhere, then mix the plaster according the instructions on the bag and apply to the ceiling or wall using a hand held board and a plasterers trowel.
Spread evenly on the surface then leave to harden, then smooth by sanding, repeating the procedure two or three times to get a smooth finish. Note that plastering is very hard work and it needs to be carried out quickly, if you are not physically fit it may be better to leave this job to a professional.
If you don't fancy doing this project yourself, use the quote form to gather quotes from reliable and trustworthy tradesmen in your local area.
Last updated by MyJobQuote on 7th October 2015.