A Guide to Common Boiler Problems
You've invested in a new boiler. You've properly maintained it and done required maintenance when suggested. But, you're having problems with your boiler. Knowing the common boiler problems, and how to resolve them, is something every homeowner should be familiar with. These are a few of the most common issues you'll run into with a boiler system in your home.
It stopped working –
As long as you're not on a prepaid system (where the problem will probably be you ran out of credits) if your boiler stops functioning, it is rendered useless. If you can't access hot water when you need it, this is a problem. So, how do you resolve this? Check for electrical wire tripping, or other 'status-issues' with the boiler. More often than not, you'd be surprised to know that simply flipping an electric switch will resolve the problem. Check the pressure gauges as well; with most boilers, the level should never be below 1. It is also important to check the manual, and if you don't have it, you can typically find one online. Your last resort should be contacting a service technician, but if you've exhausted all other options, this might be the only solution.
Problems with low pressure –
If your boiler powers up normally, but then trips itself up, this might be related to the pressure gauge settings. If your boiler is ever set below 1, this is likely to be a problem you are going to run into often. If, however, it isn't low pressure, check the temperature gauges, check the radiator, or look for issues like a frozen pipe in the home. All of these factors might send signals to your boiler, which will cause it to trip/shut down, when you need it to work. A faulty pump is typically the worst-case scenario when your boiler simply shuts down on its own. For most, this might require calling a technician to your home to install a new pump.
Energy issues –
Your boiler isn't heating. What's the use if it isn't doing its intended job? If your boiler isn't heating the water to the levels you would like, check the thermostat, read the manual, and do general checks you did with other problems you ran into. If you can't resolve it, its time to call a plumber or your energy supplier. It might simply be an issue on their end, which can quickly be resolved for you.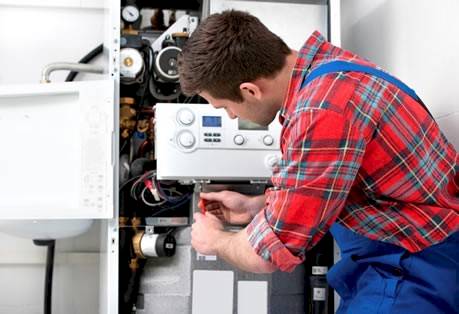 If there are issues with piping and plumbing, then a plumber is the best person to resolve these issues for you. Not only can they do the appropriate checks, in the event it is not a major problem, if they have to rectify or if they have to replace anything, these jobs typically take a matter of hours for a skilled plumber to perform. For older boilers, which are operated by gas, the pilot light/switch might be faulty. In such a case, it might be best to consider upgrading to a new, more efficient model; however, if you want to have this serviced, you can always call a technician to do this work for you as well.
My boiler's making noise –
A noisy boiler isn't always 'the worst-case scenario'. Most people typically assume the worst when they hear loud noises, especially from a boiler which isn't extremely old. A few issues it is making noise can range from placement, possible shaking on the floor, or something simple of that nature.
Boiler whistling, and boiler gurgling are two common issues your boiler might be having. When it whistles, this is likely caused by trapped air in the boiler or in the piping throughout the home. You can simply bleed the radiator as this will often resolve the issues. If the gurgling is the issue you are having, this might require you to check for frozen pipes. This is most commonly the cause for gurgling. If regular flow of water is being interrupted in the home, because of frozen pipes, this has to be taken care of before the noise will cease. Once you've tended to the frozen pipes, if the noises persist, you might choose to contact a plumber to check the boiler system, before springing for something brand new.
It doesn't apply central heating –
If your boiler isn't responding to central heating, it is most likely because the temperature is set below 21 degrees (Celsius); if this is the case, it might simply be that simple, and you'll simply have to adjust the temperature to a higher level, which will likely resolve the issues you're having. If this doesn't resolve it, you might need to check the boiler-manual, and settings, to see if they are properly aligned with the installation of the boiler and your central heating system.
If these don't resolve the problem, consider checking the valves, as there may be issues with the plumbing/backend, at which time you're likely going to have to call a service technician to do the repair work for you.
What's the next step? –
Most people tend to worry or jump to the worst possible conclusion when there is a noise, problem, movement, or any other issue with their boiler. And, more often than not, it is something that can easily be resolved by reading the manual or doing a quick online check for issues with the boiler. So, before you do rush to the worst possible scenario, take a step back, and attempt to resolve the issues with these simple tips provided here.
In the event these tricks do not resolve the problem, you should contact a technician or plumber. Although it will cost a bit more, they know how to resolve most problems, and it is going to cost you less than a brand-new boiler will. So, attempt the simple fixes on your own, and worst-case scenario, call a specialist who can check plumbing lines, piping, and any other possible issues that might be occurring with the boiler, to help bring it back to its proper working condition.
Last updated by MyJobQuote on 27th July 2018.