Growing your own Vegetable Patch
Vegetable growing or edible gardening saves money and is kinder to the planet and environment, plus vegetable gardening is an opportunity to grow interesting flavours with fresher food than money can buy. Always grow vegetables in the sunniest spot you have in the garden for hardy, disease-resistant plants and delicious onions, carrots, tomatoes and chillies. But some plants will prefer some shade such as salad plants and strawberries, but this is easily created using some netting or fencing. Most ordinary garden soils are fine for veg growing and you can begin planting immediately, but in some rare cases extremely thin soils or thick clay type soil may mean that you'll need to build raised beds or be prepared for a lot of work to make your soil suitable for growing. The main problems encountered when growing your own veg are slugs, snails and weeds!

Slugs and snails can mostly be avoided by keeping your vegetable plot neat and tidy, clearing weeds and leaves that may be hiding molluscs and keeping adjacent grasses short. In addition, having dense flower borders adjacent to your veg plot is a a bad idea as slugs will hide in the flowers then mount night-time raids on your vegetable crops! Place paths or patio areas in between vegetable beds to make it more difficult for slugs to move around as they can be easier seen and picked off by birds in the open. Ensure your vegetable plot is free of weeds before you plant anything! Otherwise vegetable gardening will be an endless war of attrition to prevent your plot from being swamped by weeds.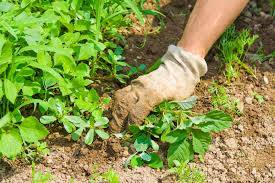 With most vegetables there are two growing seasons, so planting is done in Spring and Autumn (for winter plants). But you can begin your vegetable plot anytime by preparing the soil first of all by digging it over then raking it into a fine tilth ready for planting. Remember to try and avoid standing on the ground when planting as it compacts the soil making it difficult for plants to grow. You can start by planting broad beans, onions, early peas and perpetual spinach in March, with the first early potatoes near the end of March. In April the frosts should be over so you can start sowing carrots, parsnips, spinach, lettuce and beetroot. Then in May you can start planting runner beans, tomatoes, French beans, cucumbers , peppers and aubergines. There are also plenty of winter vegetables to grow during the coldest months such as Winter Cabbage, Kale and Brussels Sprouts. There are lots of tasty vegetables to grow in winter that are fully hardy and will cope well with cold winter weather which can be sown in autumn.
For beginners, the best vegetables to start growing are Onions and Shallots, Garlic, Spring Onions, Perpetual Spinach, Broad Beans, Peas, Asparagus and of course Potatoes.
Last updated by MyJobQuote on 10th April 2015.