Fitting a Towel Rail
Fitting a towel rail can be a DIY job, but take care with any plumbing or electrical connections you need to make. Fitting towel rails in the bathroom are a very common home improvement project, especially when installed to replace a radiator. There are tons of towel rails to choose from with traditional, contemporary and trendy designs available. Remember that before fitting a heated towel rail you need to drain down your central heating system.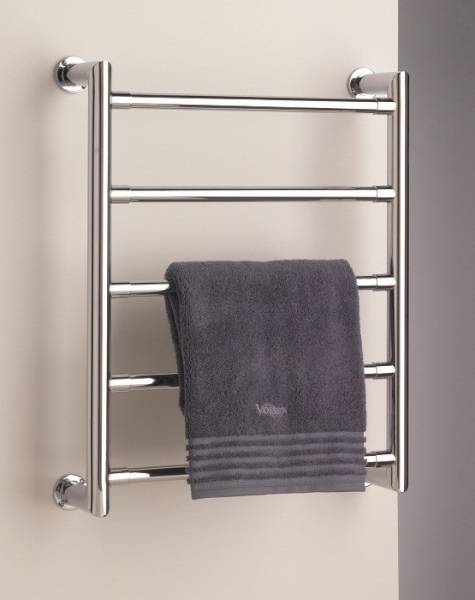 If replacing a radiator with a towel rail, try to find a towel rail which is the same size to make the job easier by using existing pipework. If you cannot do this, then you will need to add or reduce to your existing pipework. begin by marking the exact position on the wall where you want the towel rail, then mark the position of the valves. This will be where you will need to get the pipes to, so you can either come up from the floor, or dismantle some wall to get a neater job (radiator supply pipes either come through the wall to the valve, or come up through the floor). Novice plumbers should use compression fittings as these are easier. Remember to sleeve pipes before chasing them into the wall to stop any contact between mortar, plaster and the water pipes. When fitting, always put something over the end of the pipe to stop anything getting in, until you are ready to connect the pipes up. Carefully check the manufacturer fitting instructions of your particular towel rail before beginning the installation! Once installed and securely fixed then make the required connections and re-set the central heating system. of course you do not need to position the towel rail in the same place as your old radiator, nor do you need to replace the radiator, you can install a rail in addition. However, fixing towel rail in the same position involves much less work and will therefore be much cheaper, whether you go he DIY route or opt for a local plumber.
Electric only heated towel rails are much easier to fit and are great if you do not already have a radiator in your bathroom with existent water supply fittings. You can buy electric towel radiators which look identical to those supplied by your central heating system, but use a fluid which is heated via an electric thermostatic heating element. However, though these types of towel rails involve less work than the type supplied with hot water from your central heating system, the installation is not a DIY job due to Part P regulations as the bathroom is considered a special location, so a qualified electrician will be required.
Last updated by MyJobQuote on 17th September 2015.