Fitting a Dimmer Switch
Fitting a dimmer switch is a common DIY job which is relatively straightforward, although you do have to be aware of part P building regulations for information on DIY electrical installations. For this project you will need a screwdriver, wire strippers, circuit tester, dimmer switch, wire connector and electric tape.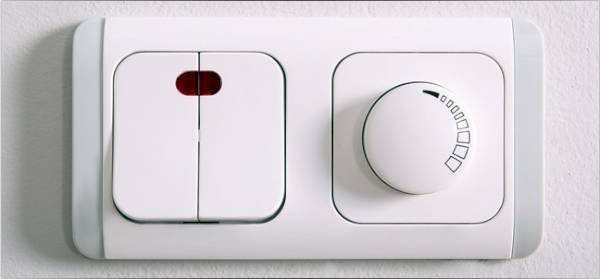 When choosing your switch you need to take into account that dimmer switches are simply the name used for plate switches which allow you to control the brightness of a light by regulating the current flowing through the circuit. Dimmers simply reduce the voltage supplied which results in a reduction in light output, allowing you to set the light levels for your mood. Using a dimmer switch also reduces energy consumption and saves money, while increasing lamp life so bulbs need to be replaced less often, which means reduced maintenance costs. Many types of light bulbs and lamps can be dimmed but if you select the wrong type of dimmer it may not work or even blow the dimmer or light fitting. The most basic and least expensive variety of dimmer switch is the simple dial where you turn to click on and simply turn further to make the light brighter. Leading edge dimmers are are able to reduce the load by shortening the A/C cycle at the leading edge of the input waveform, whereas trailing edge dimmers reduce the load by shortening the A/C cycle at the trailing edge of the input waveform. Inductive dimmers are designed for the secondary side of low voltage or LED lighting circuits and are rated in Volt Amps rather than watts, but these are not common in normal domestic lighting. Dimming fluorescent lights are also possible but complex and expensive to install, so usually only found in commercial applications. There are also remote control dimmer switch units on the market which can easily be used to replace a standard or dimmer light switch. Most can be remote controlled from up to 15 metres away and the last light level is stored in the memory when switched off.
Before beginning the installation, first turn off power and make sure you are familiar with the new wiring and cable colours. You will find a red and black wire connected to the dimmer switch, plus a green and yellow earth wire if you have a metal face plate for your switch. The earth wire should be connected to the metal box recessed into the wall. If you have more than just a red and black wire in your switch, then you probably have two or three way lighting which is complicated and best left to a qualified electrician.
Last updated by MyJobQuote on 16th July 2015.