Consumer Guide to Maintenance and Repairs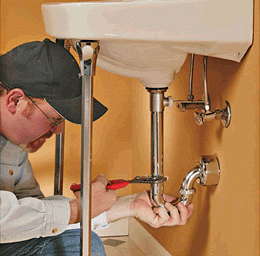 When you employ a tradesman to do some work in your home, you are entering into a contract with them, whether you have a written contract or not. When a contractor fixes or maintains something in your home, he is providing you with a service and should do so with reasonable skill and care, finishing the job within a reasonable time. In addition any materials must be of satisfactory quality and fit for purpose.
Whether your contract, verbal or written, is based on a quotation or estimate, you do not have to pay for work that you did not ask to be done. There are of course times when unexpected extra work may be needed, however any additional costs need to be agreed in advance, preferably in writing before the work starts. You can even decide to pay less if you suffer loss or inconvenience because the job was not in the agreed time. We have wrote down our top 10 tips for hiring a tradesmen, check them out as a guide of what to do when you hire your next tradesmen.
When the job is complete
When work is complete, you should avoid signing anything that says you are completely satisfied with the work done. The reason you should be wary is that often problems may not be immediately apparent. For example, you may not realise your new roof is leaking until you get a good downpour, but if you've signed a satisfaction note, it may be difficult for you to claim against the tradesman later. You do however have six years in which to take court action against the tradesman but as time passes proving your case becomes increasing difficult.
Getting quotations from tradesman
Whenever you are getting a big job done, always get quotations from at least three tradesmen before employing one. Check beforehand there is no charge for quotations and always ensure the contract is in writing and covers every aspect of the job, including the cost of materials, labour, clean-up and VAT if applicable. Contracts should also clearly state the arrangements for payment along with the start and finish dates. When choosing between quotations, don't always just accept the lowest quote.
Quality, punctuality and reliability are just as important. If possible, ask for references and ask to see other work the tradesman has completed and talk to previous customers. It can be a good idea to check membership of trade associations such as the Confederation of Roofing Contractors, the Scottish and Northern Ireland Plumbing Employers Federation, the Federation of Master Builders, or many websites which are now available which feature tradesman around the UK with reviews from their customers to help you make an informed choice. The OFT run an Approved code scheme for businesses so you can see that the participating trader operates to higher standards of customer protection.
When things go wrong with tradesman
If things go wrong and you have a dispute, always try to sort it out first with the tradesman or the company that carried out the work. If you don't get satisfaction dealing with them directly, if they are members of a trade association, you can also ask them for help. Court action is the last resort if you haven't been able to sort out your complaint either directly or through a trade association arbitration scheme. If the amount involved is lass than £3,000, you can take your case to court yourself using the Small Claims process. But always contact your local Citizens Advice before you ask your local court for an application form. For larger disputes involving costs over £3,000, you need to discuss the claim with a solicitor.
Emergency repairs
There are of course situations where you simply don't have time to do a lot of research, get referrals and speak to previous customers. If you have an emergency job such as a bad water leak or if you are locked out of your home, then the short time frame means you can only carry out minimal checks. Sites like MyJobQuote can be invaluable in these cases as you can quickly find a tradesman and check their reviews online in minutes, even on your smartphone.
Last updated by MyJobQuote on 29th May 2014.